~ Veteran News ~
A Christmas Message
From Secretary of Veterans Affairs Eric K. Shinseki
   WASHINGTON -- The second year of our declared independence found General George Washington's Continental Army encamped at Valley Forge, Pennsylvania.  In the week before Christmas of 1777, more than 12,000 poorly-clothed, hungry and near-frozen American soldiers were huddled against a brutal winter, enduring the numbing cold as disease ravaged their ranks. As many as 2,000 of them did not survive Valley Forge.
   General Washington wrote that, "unless some great and capital change suddenly takes place. . . this Army must inevitably. . . starve, dissolve, or disperse, in order to obtain subsistence in the best manner they can."
   Despite these bleak conditions, the fighting men of the Continental Army lifted their own spirits, located much needed supplies and took to training with determined vigor. They honed their basic fighting skills, learned new tactics, preserved their dwindling strength and disciplined themselves for the difficult campaign that would follow.  It was an act of sublime courage and determination. Six months later, the Continental
   Army marched out of Valley Forge fit and ready, stronger and more cohesive as a fighting force, and went on to seize American independence.
   Since that winter, American patriots in an unbroken line have found themselves on duty during the holiday season each year. Our freedom and security as a nation has required it. So as Americans and their families gather to celebrate these holidays, let us remember the men and women, who sacrifice so much for our privileges, comforts and well-being. They are away from their own families, standing watch for us on freedom's distant frontiers. We salute their valor, past and present, and we pray for them and our Veterans, who have so selflessly given us the gifts we enjoy this holiday season, as we have every season since 1775.
   I offer my warmest best wishes for a blessed and joyous holiday to all our serving military, our Veterans, all of their families, the survivors of the fallen, and the members of our Veterans Affairs family, who are privileged to serve them.  May God bless each and every one of you, and may God continue to bless this wonderful country of ours.
Merry Christmas
Disabled Vet Finds New Ways to Represent Country
By Army Sgt. 1st Class Michael J. Carden, American Forces Press Service
   WASHINGTON – Army veteran Patrick McDonald loved serving his country, but after a tragic training accident in South Korea in 1991, his four-year military career came to an end.
<![if !vml]>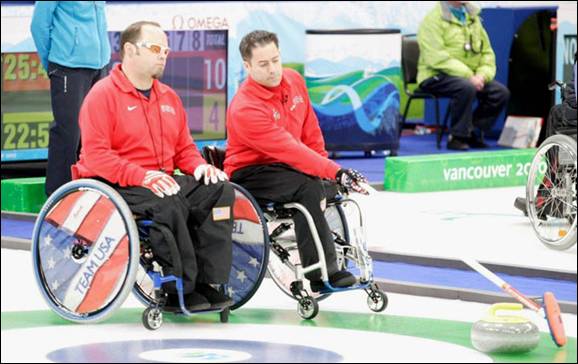 <![endif]>
Army veteran Patrick McDonald talks strategy with a teammate during a
Paralympic curling match between Team USA and Norway, March 17, 2010,
                                       as part of the 2010 Winter Paralympics in Vancouver, Canada.
                                                                   Photo courtesy of the U.S. Paralympic Committee 
   A broken neck and back left McDonald paralyzed from the waist down. He was medically retired from service, and without the Army and the ability to walk, his livelihood began to fade. Never serving his country again was a devastating thought, he said.
   "I worked hard to wear a uniform and in representing my country during my military career," the former cavalry scout said in an interview with American Forces Press Service. "It's what I wanted to do, and things were going great."
   McDonald began rehabilitation at the Pal Alto Veterans Affairs hospital in northern California, near his home in Orangevale. He was introduced to adaptive sports, and discovered what a powerful and positive impact sports could have. He also found a way to serve his country again.
   McDonald took part in his first international competition last month at the 2010 Paralympic Winter Games in Vancouver, Canada, on the curling team.
   "Being a Paralympian means a lot," he said. "Learning about wheelchair sports, that's where I knew I could represent my country again, but this time in sports."
   The U.S. wheelchair curling team was edged out 7-5 by Sweden in the bronze medal round. Another adaptive sports accomplishment McDonald holds is the U.S. Golf Association record for longest drive from a chair -- 358 yards. He also shoots to a 1.7 USGA handicap, he said.
   McDonald also is training for the 2012 Paralympic Summer Games in London as an air rifle marksman.
   Winning a medal in both the summer and winter Paralympics is a very important goal for him, he explained, but he noted that his life isn't all about winning and glory. Living a happy life, whether you're a hard-charging soldier or a disabled veteran, means setting goals and believing in your ability to accomplish them, he said.
   Thousands of wounded warriors and disabled veterans have been down similar roads. And since after World War II, they've been taking advantage of the healing power of sports, whether in international play, at the VA summer and winter sports clinics or in their local communities. Adaptive sports can have a truly positive impact on everyone trying to overcome disabilities, McDonald said.
   McDonald was in good company at the Paralympics. He was among five disabled veterans on the 50-member U.S. Paralympic team in Vancouver, all have probably thought at some point in their rehabilitation that competing in high-level athletics and representing their nation in the Olympic Games was a bit of a long shot, he said.
   "If you believe in what you do, just do it," McDonald said. "It doesn't matter if you have a disability or not. Victory belongs to those who believe in it the most and who believes the longest."
   Veterans who competed in the 2010 Paralympic Games along with McDonald are:
 -- Army Staff Sgt. Health Calhoun, who lost both legs to a rocket-propelled grenade attack in Iraq and competed in alpine skiing. He also served as the U.S. flag bearer during the opening ceremonies.
 -- Army Sgt. Andrew Soule, who won a bronze medal in the 2.4-kilometer sitting pursuit biathlon and competed in cross-country skiing. Both of Soule's legs were amputated above the knee after a roadside bomb struck his Humvee in Afghanistan in 2005.
 -- Chris Devlin-Young, a Coast Guard veteran, who competed in his fourth Paralympics as an alpine skier. He won four medals – two gold and two silver – in his previous games.
 -- Sean Halsted, an Air Force veteran who became paralyzed from the waist down after falling 40 feet from a helicopter during a training accident in 1998 and competed in alpine skiing.
   All five of the athletes were introduced to adaptive sports at their VA hospitals and VA summer and winter sports clinics, a recognition the VA is very proud of, said L. Tammy Duckworth, VA assistant secretary for public and intergovernmental affairs and disabled Iraq war veteran, in an interview with American Forces Press Service.
   "It's something that's been a long-standing tradition in VA, rehabilitating combat-wounded veterans [with sports]," Duckworth said. "And for the athletes themselves, it's such an incredible part of their rehabilitation."
   Duckworth lost both of her legs and partial use of an arm after the helicopter she was piloting was shot down in Iraq in 2004. She was introduced to adaptive sports at Walter Reed Army Medical Center here, she said.
   Just months into her in her recovery, she found herself in Colorado Springs, Colo., at the VA Winter Sports Clinic. Learning to ski without legs gave her an edge and confidence she thought she'd lost forever, she said.
   "It really gave me something to work towards," she said. "From the first moments of my injury, it set my standards really high, and keeping [disabled veterans'] expectations high is really critical to their rehabilitation."
   Adaptive sports do more than just make Paralympic teams better, Duckworth said. Disabled veteran athletes are raising the bar throughout the country. Either through setting standards and motivating disabled civilians or through "bringing new blood" to the games themselves, the veteran community is going to continue to have an impact on the Paralympics, Duckworth said.
   "When you can see somebody who's in the Paralympics nine or 18 months after he was blown up in Iraq, that's extremely motivating four our country as a whole," she explained. "It can quickly be motivating for a young kid who was in a car accident and lost his legs.
   "People are going to be able to see these warriors achieving and excelling even with devastating injuries," she continued. "It's just good for the country as a whole."
Space Station Experiment Could Benefit Aging Veterans
<![if !vml]>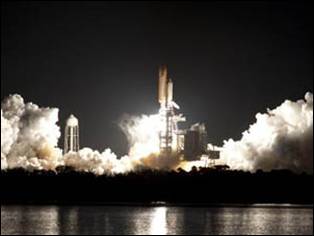 <![endif]>       <![if !vml]>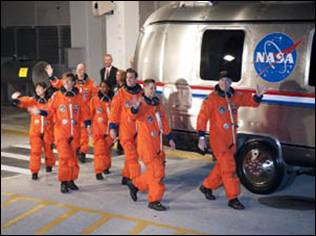 <![endif]>
   When the space shuttle Discovery lifted off on Monday morning, April 5, Veterans had a vested interest in an experiment onboard.
   A VA scientist, also a former astronaut, sent an important experiment to the International Space Station that may save the lives of elderly Veterans in the future.
   Dr. Millie Hughes-Fulford is trying to find out why some white blood cells stop working the way they should in some elderly people. White blood cells help fight off infections, and if they don't do their job, it can be fatal.
   An astronaut who flew aboard the space shuttle in 1991, Dr. Hughes-Fulford is now director of the Laboratory for Cell Growth at the San Francisco VA Medical Center.
   Personnel aboard the International Space Station will carry out her experiment to investigate why some white blood cells stop working in the absence of gravity. The experiment has implications for disease on earth as well. On earth, some white blood cells that are so important to the body's immune system cease to function in people with untreated HIV/AIDS as well as in some elderly people, leading to the development of potentially fatal infections.
   Simplified, the immune system protects us against disease by identifying and destroying germs and tumor cells.
   "From the beginning of the US Apollo moon program, we've known that about half of our astronauts develop suppressed immune systems either during flight or shortly afterwards, and we have since learned that non-functioning white blood cells known as 'T cells' are at least partly responsible," says Hughes-Fulford, who is also a professor of medicine at the University of California, San Francisco.
   "The 'T cell' is the quarterback of the white blood cells and it activates the rest of the team. I always use that analogy to explain it to my husband.
   "If we can get to the root cause, we can potentially help older people, people with HIV/AIDS, and anyone else who is having problems with their immune system," Dr. Hughes-Fulford adds.
   Shuttle flight STS-131 will deliver self-contained experimental rodent habitats called Animal Enclosure Modules to the space station. The orbital experimental mice will later be compared to earth-bound control mice to compare their results.
   She cautions that such therapy is "many, many years away. We're just laying the groundwork. At the same time, we're uncovering fundamental mechanisms that control the immune system, and what happens to those mechanisms when you remove them from the gravity field in which they evolved."
   The experiment is supported by funds from NASA that are administered by the Northern California Institute for Research and Education (NCIRE).
   NCIRE, the Veterans Health Research Institute, is the leading non-profit research institute associated with a VA medical center. Its mission is to improve the health and well-being of veterans and the general public by supporting a world-class biomedical research program conducted by the University of California at San Francisco faculty at the San Francisco VA Medical Center.
   The San Francisco VA Medical Center has the largest funded research program in the Veterans Health Administration with over $76 million in expenditures (FY 09) and more than 200 research scientists, all of whom are faculty members at University of California San Francisco.
Shinseki Urges Disabled Vets to Conquer Mountain, Doubts
by Donna Miles, American Forces Press Service
   SNOWMASS VILLAGE, Colo. - Veterans Affairs Secretary Eric K. Shinseki opened the 24th Annual National Disabled Veterans Winter Sports Clinic here last night, encouraging participants to conquer the mountain and prove to themselves what they're able to achieve.
<![if !vml]>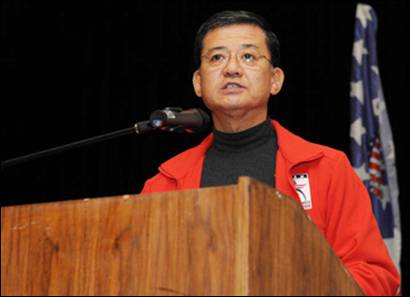 <![endif]>        <![if !vml]>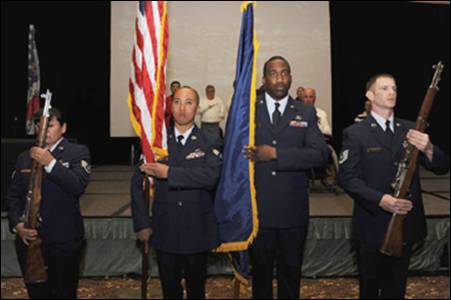 <![endif]>
(Above left) Veterans Affairs Secretary Eric K. Shinseki gives opening remarks during the opening ceremony for the 24th National Disabled American Veterans Winter Sports Clinic in Snowmass Village, Colo., March 28, 2010. The event is sponsored by the VA Department and Disabled American Veterans. U.S. Air Force photo by Staff Sgt. Desiree N. Palacios"
(Above right) "Airmen from Luke Air Force Base, Ariz., post the colors during the opening ceremony for the 24th National Disabled American Veterans Winter Sports Clinic in Snowmass Village, Colo., March 28, 2010. U.S. Air Force photo by Staff Sgt. Desiree N. Palacios"
   Shinseki challenged more than 400 disabled veterans participating in the six-day clinic to move beyond their personal comfort zones and press their limits as they learn adaptive Alpine and Nordic skiing and try their hand at rock climbing, scuba diving, trapshooting, snowmobile, sled hockey, wheelchair fencing and other activities.
   In doing so, he urged them to seek answers to two questions: "What's possible?" and "Can I do more than I think?"
   The answers could become life-changing, he said, noting several disabled veterans who faced doubts about what they could do but proved their potential by earning positions on the 2010 U.S. Paralympic team.
   "Life may have changed for these athletes, but they did not," Shinseki said, calling on veterans at the winter sports clinic to be inspired by their example.
   Shinseki said he recognizes that for some participants, especially first-timers, pressing beyond their comfort level is a threatening proposition. He urged them to put any concerns aside and take advantage of every opportunity offered to them at the clinic.
   "This week is about making you feel good about yourself, so do it all," he told them. "You are going to feel the exhilaration and healing power of these mountains."
   Calling the clinic an extension of "the superb rehabilitative care" veterans receive at VA medical facilities across the country, Shinseki said it be more than just a week of adventure and fun.
   "It's about deciding how you live the other 51 weeks of the year," he said. "So let's go conquer that mountain!"
   The clinic, co-sponsored by the VA Department and Disabled American Veterans, is open to U.S. military veterans being treated at VA facilities for traumatic brain injuries, spinal cord injuries, orthopedic amputations, visual impairments, neurological problems and other disabilities.
   Disabled American Veterans National Commander Roberto Barrera called the clinic a highlight of the year for many of the nation's most profoundly disabled veterans.
   "There is no event that comes close, either in terms of participation or the availability of rehabilitative events for the veterans who make the journey," he said.
   While pushing their limits during a full range of activities this week, the veterans also will get to mingle with 2010 Olympic gold medalist Bode Miller and five-time Olympic Alpine skier Casey Puckett.
   Retired Army Cpl. Alan "Doc" Babin, who was seriously wounded in March 2003 while serving in Iraq, is among veterans of Iraq and Afghanistan participating in this year's event. Babin, a medic with the 82nd Airborne Division's 1st Battalion, 325th Infantry, was rushing to aid a wounded solder when he was hit by small-arms fire that blasted through his stomach.
   "I wasn't expected to survive after I was shot," said Babin, who endured more than 70 surgeries and spent two and a half years in hospitals, unconscious most of the time.
   As he returns to his third winter sports clinic, Babin has proven the value of never giving up. He has competed in the National Veterans Wheelchair Games, medaling in quad rugby, and a motorized wheelchair rally. He also reached his personal weightlifting record.
   "You have to keep moving along and find your new normal," he said.
<![if !vml]>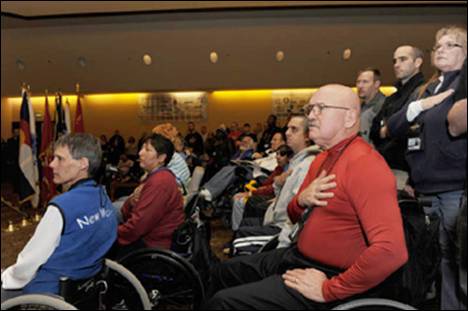 <![endif]>    <![if !vml]>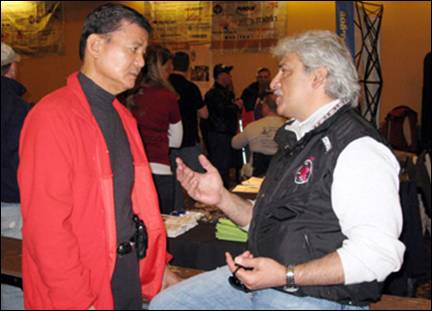 <![endif]>
(Above left) "Veterans participating in the 24th National Disabled American Veterans Winter Sports Clinic in Snowmass Village, Colo., recite the Pledge of Allegiance at the opening ceremony, March 28, 2010. The event is sponsored by the Veterans Affairs Department and Disabled American Veterans. U.S. Air Force photo by Staff Sgt. Desiree N. Palacios"
(Above right) "Veterans Affairs Secretary Eric K. Shinseki chats with Sandy Trombetta, founder and director of the National Disabled Veterans Winter Sports Clinic, before the event's opening ceremonies, March 28, 2010. DoD photo by Donna Miles"
Disabled Veteran Trains for Inaugural Warrior Games
by Army Sgt. 1st Class Michael J. Carden, American Forces Press Service
   FAIRFAX, Va., March 25, 2010 - Doctors once told Matthew Bilancia that playing sports and competing in athletic competition would be difficult, if not nearly impossible.
<![if !vml]>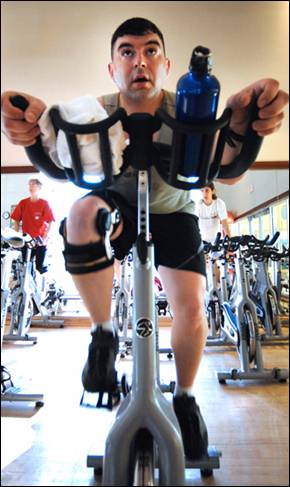 <![endif]>  <![if !vml]>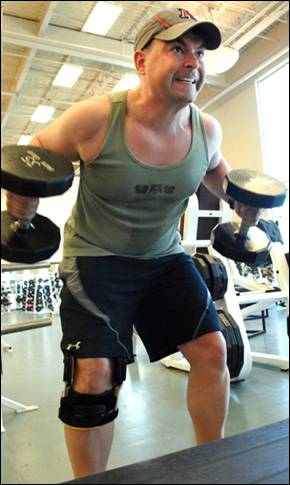 <![endif]>
Right - Air Force veteran Matthew Bilancia rides a spin bike during a workout
March 24, 2010, at a health club in Fairfax, Va. Bilancia is training up for
the inaugural Warrior Games in Colorado Springs, Colo., May 10-14.
Left - Matthew does back flies.
DoD photo by Army Sgt. 1st Class Michael J. Carden"
   But the Air Force veteran is defying those odds with a demanding workout regimen and by being selected to participate in the inaugural Warrior Games slated May 10-14 in Colorado Springs, Colo.
   Bilancia is among 25 wounded airmen and disabled veterans expected to represent the Air Force at the games.
   The competition is open to military members and veterans with bodily injuries as well as mental wounds of war, such as post-traumatic stress and traumatic brain injury. The Defense Department announced in January that about 200 disabled servicemembers and veterans are expected to participate. An official announcement to inform the selected athletes is expected to be made in the coming weeks.
   Typical adaptive sports competitions hosted by the military and the Department of Veterans Affairs are open to anyone. The Warrior Games, however, are expected to be highly competitive because of the selection process. Independent panels have been reviewing applications since January to determine who will represent each of the military services.
   "The Warrior Games are going to be successful simply because of its selection process," Bilancia told American Forces Press Service. "I think it's going to raise the bar."
   Still, just being able to compete and participate in athletics at all after suffering life-changing injuries is a great accomplishment, he added.
   Bilancia, a New Jersey native, shattered his right knee in July 2002 when his motorcycle was rear-ended by a car. He was stationed with the Air Force in Tucson, Ariz. Every ligament in his knee was damaged, and he was medically separated from the service in 2004. He sought treatment to repair his leg through the VA health system. After eight surgeries, his entire leg eventually became septic, and doctors told him he might never play sports again.
   "The doctors told me I'd basically have a hard time walking, [and] that I'd never be able to run or jog," he said.
   Bilancia now is an avid snowboarder, and he plays wheelchair basketball and tennis. He also has a weekly workout routine that would make most people think twice about going to the gym with him. In fact, since moving here recently, Bilancia said he has had nine different workout partners, with most not bothering to show up for Day 2.
   Working out and staying fit helps to control depression and cope with physical pain better than anything his doctors could ever prescribe, Bilanca said. For the past three years, an intense combination of cardiovascular and weight-lifting sessions five and six days a week has been his medicine of choice.
   "I started using strength and endurance training and athletics about three years ago to manage my depression and post-traumatic stress, and as a substitute for narcotics," he said. "I found that I'd rather have the endorphin release and adrenaline rush from working out than numbing my pain with medications."
   Bilancia said he'll take that message to Colorado. While there, he wants "to identify to myself that I'm able to compete, and to be an inspiration to others who think that they can't compete."
   Bilancia said he hopes the games will be another long-term and continuing conduit for disabled veterans and wounded warriors to discover their true abilities. Often, people with disabilities shy away from athletics and are fearful of failing, he noted.
   The military mentality instilled in him during his service made it extremely difficult to admit weaknesses and a need for help, he acknowledged. But he said he eventually learned that opening up helped him become more optimistic and confident.
   "Success in this whole program is not about winning events," he said. "It's more about participating, enjoying it and actually learning that you can do something you couldn't do before, or that you thought you couldn't do."
   The U.S. Olympic Committee will host the games, and events will include shooting, swimming, archery and wheelchair basketball, to name a few. Since 2003, the U.S. Paralympics Committee has worked in partnership with VA, providing adaptive sports therapy to veterans. The Warrior Games is not a Paralympics qualifying event.
Wounded Warriors, Veterans Find Therapy on Ski Slopes
<![if !vml]>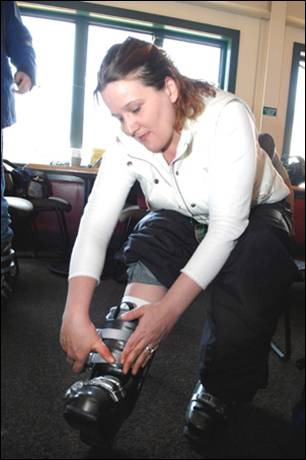 <![endif]>           <![if !vml]>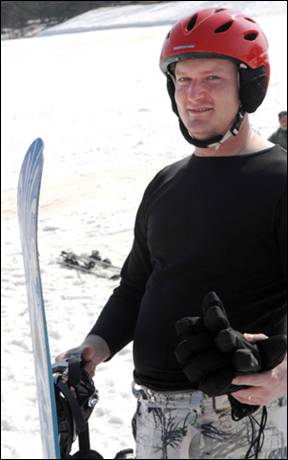 <![endif]>
Above left: Army Spc. Tonya Jacobs, injured in an on-the-job accident in Kuwait in 2008, laces up
her ski boots for a wounded warrior adaptive sports session March 11, 2010, at Whitetail Ski Resort
in Mercersburg, Pa. The USO of Metropolitan Washington and the Two Top Mountain Adaptive
Sports Foundation sponsored the event. DoD photo by Army Sgt. 1st Class Michael J. Carden"
Above right: "Brian Isenhour, a retired Air Force airman who suffered severe brain injury after a
car accident five years ago, participates in an adaptive sports session March 11, 2010, at Whitetail
Ski Resort in Mercersburg, Pa. Isenhour has learned to overcome his disabilities through snow-
boarding and other adaptive sports. DoD photo by Army Sgt. 1st Class Michael J. Carden"
   MERCERSBURG, Pa., March 12, 2010 - Matthew Bilancia addresses the slopes like a man on a mission, cutting and edging his snowboard down the mountain with the confidence and passion of someone who's been doing it all his life.
   But beneath the thick pants and poised facade, the former Air Force senior airman bears the source of his determination: a scar on his right knee that reminds him of all the doctors and physicians who once told him, "Walking would be difficult. Forget about sports and athletics."
   Bilancia was one of four wounded warriors and disabled veterans to participate yesterday in what is expected to be one of the few remaining days of the winter sports season at Whitetail Resort here. He and the others came together with the USO of Metropolitan Washington and the Two Top Mountain Adaptive Sports Foundation to prove to themselves that rehabilitation is more than pain killers and doctor recommendations.
   "I've been using snowboarding and hand cycling and weight lifting to manage my pain for the past three years," Bilancia, a New Jersey native, said. "I think by using different sports and athletics, it keeps you from being depressed. It manages my depression and post-traumatic stress. It's great to able to use those things instead of the medication."
   Bilancia shattered his knee in July 2002 when the motorcycle he was driving was rear-ended by a car. He was stationed with the Air Force in Tucson, Ariz. Every ligament in his knee was damaged, and his entire leg eventually became septic. Doctors began working to save his leg and were successful, but the results were troubling, to say the least, he said.
   "I didn't think I'd ever be able to snowboard, and the doctors told me I'd basically have a hard time walking, [and] that I'd never be able to run or jog," Bilancia said, referring to a post-surgery doctor's consultation he received in 2008. "They said participating in athletics would be extremely difficult, if not near impossible."
   Bilancia still takes some medications, but in smaller doses. He also spends less time at the doctor's office now than in previous years. And through adaptive sports, he's cut his annual pain medication intake by more than half, he said, adding that he hopes to start his own nonprofit organization one day to teach others to do the same.
   "I want to teach people how to use athletics to manage their pain by endorphin release and flow of adrenaline in their bodies, as opposed to narcotics," he explained. "My goal is to help individuals understand they don't need to rely on the medicines. They don't have to listen to all the negativity from doctors, saying they'll never do this or they'll never do that again. It's just a matter of mind over matter."
   Bill Dietrich, executive director and founder of Two Top Mountain Adaptive Sports Foundation, echoed Bilancia's philosophy and said he is humbled by the opportunity to work with wounded military veterans and individuals with disabilities.
   "It's an incredible therapy for these guys, and it's wonderful to see the enthusiasm they get from being out here," said Dietrich, who's been a certified ski instructor here since 1990. "Working with the wounded warriors I've had a chance to get to know this winter, all of them bring an incredible amount of determination and will power and desire to learn. I'm even looking forward to some of them become instructors themselves."
   Dietrich noted retired Air Force Staff Sgt. Brian Isenhour, who suffers severe brain damage from an automobile accident in 2004, for the impact snowboarding has had on his rehabilitation. Isenhour is a perfect example of how a traumatic event can be overcome through adaptive sports therapy, Dietrich said.
   "The first time Brian came out, he could barely walk without assistance," he said. "He really had me scratching my head about what he was going to be able to accomplish. But seven or eight trips later, he's snowboarding, and his friends tell me that he's happier and more optimistic than they've seen him in a long time.
   "It gives me a lot of satisfaction and pride to be involved in helping people cope with life-changing circumstances, and it's extremely rewarding to see some like Brian progress and enjoy life again," Dietrich continued.
   Army Spc. Les Timms, who's currently assigned to a wounded warrior transition unit at Fort Belvoir, Va., views USO and the Two Top adaptive sports programs a little differently. He said he believes that all servicemembers, especially those who've deployed to combat, should take advantage of outings such as this, which are offered through the USO and installation morale, welfare and recreation offices.
   The Virginia Army National Guardsman described "protecting America and our homeland" as a stressful job, regardless of being injured or not. Anyone who's ever served understands the heavy burdens of preserving freedom, he said.
   "Skiing helps me rehabilitate mentally just as much as it helps me physically," said Timms, who injured his left shoulder in a vehicle rollover accident in Afghanistan in June. "These programs do help out to get your mind off things, and I'd recommend this to all soldiers, whether they're hurt or not. It helps to clear your mind, and it's just a peaceful scenario where you're just having fun."
   The USO of Metropolitan Washington provides outreach and services to veterans and their families in Maryland, Washington, D.C., and Virginia. The nonprofit organization often teams up with others, such as Two Top Mountain Adaptive Sports Foundation, to connect veterans and their families with services and opportunities to improve their morale and well being and to show support for their service to the nation.
Secretary Seeks Fast Track to Process Claims Focus on 200,000 Veterans Expected to File Claims under New Agent Orange Presumptives over Next Two Years
    WASHINGTON - The Department of Veterans Affairs (VA) announced today an aggressive new initiative to solicit private-sector input on a proposed "fast track" Veterans' claims process for service-connected presumptive illnesses due to Agent Orange exposure during the Vietnam War.
    "This will be a new way of doing business and a major step forward in how we process the presumptive claims we expect to receive over the next two years," Secretary of Veterans Affairs Eric K. Shinseki said. "With the latest, fastest, and most reliable technology, VA hopes to migrate the manual processing of these claims to an automated process that meets the needs of today's Veterans in a timelier manner."
    Over the next two years, about 200,000 Veterans are expected to file disability compensation claims under an historic expansion of three new presumptive illnesses announced last year by Secretary Shinseki. They affect Veterans who have Parkinson's disease, ischemic heart disease and B-cell leukemias.
    In practical terms, Veterans who served in Vietnam during the war and who have one of the illnesses covered by the "presumption of service connection" don't have to prove an association between their medical problems and military service. This "presumption" makes it easier for Vietnam Veterans to access disability compensation benefits. Vietnam Veterans are encouraged to submit their claims as soon as possible to begin the important process of compensation.
   Along with the publication of proposed regulations for the three new presumptives this spring, VA intends to publish a formal request in Federal Business Opportunities for private-sector corporations to propose automated solutions for the parts of the claims process that take the longest amount of time. VA believes these can be collected in a more streamlined and accurate way.
   Development involves determining what additional information is needed to adjudicate the claim, such as military and private medical records and the scheduling of medical examinations.
   With this new approach, VA expects to shorten the time it takes to gather evidence, which now takes on average over 90 days. Once the claim is fully developed and all pertinent information is gathered, VA will be able to more quickly decide the claim and process the award, if granted.
   The contract is expected to be awarded in April with proposed solutions offered to VA within 90 days. Implementation of the solution is expected within 150 days.
   "Veterans whose health was harmed during their military service are entitled to the best this nation has to offer," added Secretary Shinseki. "We are undertaking an unprecedented modernization of our claims process to ensure timely and accurate delivery of that commitment."
   Last year, VA received more than one million claims for disability compensation and pension. VA provides compensation and pension benefits to over 3.8 million Veterans and beneficiaries. Presently, the basic monthly rate of compensation ranges from $123 to $2,673 to Veterans without any dependents.
   Disability compensation is a non-taxable, monthly monetary benefit paid to Veterans who are disabled as a result of an injury or illness that was incurred or aggravated during active military service.