~ Food & Recipes ~
<![if !vml]>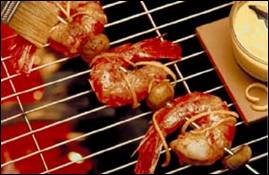 <![endif]>    <![if !vml]>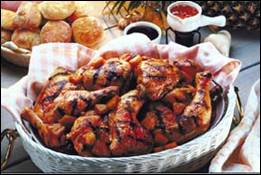 <![endif]>    <![if !vml]>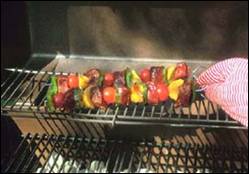 <![endif]>
Do you have a favorite dish or recipe you would like to share?
Email them to me ed@elmorecountypress.com and I'll post them on this website.
I would like to give you the credit for them, if you give me your name also.
____________________________________________________________________________
Easy Grilled Chicken Teriyaki
Ingredients:
4 skinless, boneless chicken breast halves
1 cup teriyaki sauce
1/4 cup lemon juice
2 teaspoons minced fresh garlic
2 teaspoons sesame oil
Directions:
1. Place chicken, teriyaki sauce, lemon juice, garlic, and sesame oil in a large resealable plastic bag. Seal bag, and shake to coat. Place in refrigerator for 24 hours, turning every so often.
2. Preheat grill for high heat.
3. Lightly oil the grill grate. Remove chicken from bag, discarding any remaining marinade. Grill for 6 to 8 minutes each side, or until juices run clear when chicken is pierced with a fork.
Marinated Chicken Kabobs
Ingredients
1 cup vegetable oil1/2 cup soy sauce
1/2 cup light corn syrup
1/4 cup lemon juice2 tablespoons sesame seeds
1/2 teaspoon garlic powder
garlic salt to taste
4 skinless, boneless chicken breast halves - cut into 1 1/2 inch pieces1 (8 ounce) package fresh chopped mushrooms
2 onions, quartered
1 green bell pepper, cut into large chunks
Directions
1. In a medium bowl, blend vegetable oil, soy sauce, light corn syrup, lemon juice, sesame seeds, garlic powder, and garlic salt. Place chicken in the mixture. Cover, and marinate in the refrigerator at least 2 hours.
2. Preheat an outdoor grill for medium heat, and lightly oil grate. Thread chicken onto skewers alternately with mushrooms, onions, and green bell pepper. Pour marinade into a saucepan, and bring to a boil. Cook for 5 to 10 minutes.
3. Place skewers on the prepared grill. Cook 15 to 20 minutes, turning frequently, until chicken is no longer pink and juices run clear. Baste with the boiled marinade frequently during the last 10 minutes.
Easy Barbeque Beef  Tenderloin Steak
Ingredients
2 (2 inch thick) steaks beef tenderloin
1 tablespoon olive oil
2 cloves crushed garlic
1 teaspoon meat tenderizer
Directions
1. Rub meat with olive oil and crushed garlic. Sprinkle with tenderizer. Cover, and refrigerate for 30 minutes.
2. Preheat grill for medium high heat.
3. Brush grate with oil, and place steaks on the grill. Cook for 5 to 7 minutes per side, or until done.
BBQ NY Strip
Ingredients
1/2 cup extra virgin olive oil1/2 cup Worcestershire sauce
1/4 cup minced garlic1/4 cup steak seasoning
1 tablespoon red wine vinegar
1/2 teaspoon dried basil
1/2 teaspoon Italian seasoning
4 (1/2 pound) New York strip steaks
Directions
1. In a bowl, mix the olive oil, Worcestershire sauce, garlic, steak seasoning, red wine vinegar, basil, and Italian seasoning. Pour into a large resealable plastic bag. Pierce steaks on all sides with a fork, and place in the bag. Gently shake to coat. Seal bag and marinate steaks a minimum of 2 hours in the refrigerator.
2. Preheat grill for high heat.
3. Lightly oil the grill grate. Discard marinade. Place steaks on the grill, and cook 7 minutes on each side, or to desired doneness.
Teriyaki Onion Burgers
Ingredients
1 pound ground beef
1/4 cup teriyaki marinade sauce
1 (3 ounce) can French-fried onions
4 slices Cheddar cheese
4 hamburger buns, split
Directions
1. Preheat a grill for high heat.
2. In a medium bowl, mix together the ground beef, teriyaki marinade and French-fried onions. Form the mixture into 4 patties.
3. Lightly oil the grilling surface, and place patties on the preheated grill. Grill for 4 to 5 minutes per side, or until well done. Top with cheese, and serve on hamburger buns.
Reuben Sandwich
8 slices rye bread
¾ cup Thousand Island dressing
1 (16 ounce) can sauerkraut, drained
8 slices Swiss cheese
8 slices pastrami
¼ c margarine, softened
Spread each slice of bread with Thousand Island dressing. Top 4 of the bread slices with sauerkraut, cheese, and pastrami. Place remaining bread slices on sandwich. Spread margarine on the outsides of each sandwich.
Grill until browned, then turn and grill until heated through, and cheese is melted.
______________________________________________
Pumpkin Roll
3 eggs
1 cup white sugar
2/3 cup canned pumpkin
¾ cup all-purpose flour
½ teaspoon ground cinnamon
1 teaspoon baking soda
½ cup chopped walnuts
Confectioners' sugar for dusting
1 cup confectioners' sugar
¾ teaspoon vanilla extract
2 tablespoons butter, softened
8 ounces cream cheese
Preheat oven to 375*. Grease a 15x10x1 inch baking pan and line with parchment paper. Grease and flour the paper.
In a large bowl, beat eggs on high for five minutes. Gradually add white sugar and pumpkin. Add flour, cinnamon, and baking soda. Spread batter evenly in pan. Sprinkle walnuts evenly on top.
Bake at 375* for 15 minutes or until cake springs back when lightly touched. Immediately turn out onto a linen town dusted with confectioners' sugar. Peel off paper and roll cake up in the towel, starting with the short end. Cool.
To make filling" Mix confectioners' sugar, vanilla, butter or margarine, and cream cheese together till smooth.
Carefully unroll the cake. Spread filling over cake to within 1 inch of edges. Roll up again. Cover and chill until serving. Dust with additional confectioners' sugar, if desired.
______________________________________________
Green Bean Casserole
1 can (10 ¾ ounces) condensed cream of mushroom soup
4 cups cooked green beans
1/8 teaspoon pepper
½ cup milk
1 1/3 cups French fried onions
Mix soup, milk and pepper in a 1 ½ quart casserole dish. Stir in beans and 2/3 cup of the fried onions. Bake for about 25 minutes at 350*. Top with the remaining 2/3 cup of fried onions and bake about 5 more minutes, until onions are lightly browned.
Serves 6.
______________________________________________
Turkey Salad
3 cups dices, cooked turkey
½ cup bottled French dressing
2 tablespoons mayonnaise
1 tablespoon lemon juice
¼ cup thinly sliced green onion
4 to 6 lettuce cups (Bibb or iceberg lettuce)
4 to 6 slices bacon, cooked crisp and crumbled
In medium bowl, combine turkey and dressing. Cover and let marinate in refrigerator for 1 to2 hours. Drain excess marinade; fold in mayonnaise, lemon juice and onion. To serve, spoon salad into lettuce cups; top with bacon.
Makes 4 to 6 servings.
______________________________________________
Smoked Turkey Salad
4 cups smoke turkey, cut in small cubes
1 cup mayonnaise
1 cup finely chopped celery
½ cup slivered almonds
Salt, to taste
Fresh lemon juice, to taste
Combine all ingredients, adding more mayonnaise if desired. Add fresh lemon juice to enhance flavor.
Makes 10 sandwiches.
______________________________________________
Marshmallow Fruit Salad
1 large can fruit cocktail
1 can Mandarin oranges
1 (20 oz) can chunk pineapple
3 oz. cream cheese
8 oz. Cool Whip
3 oz. strawberry banana Jell-O
1 bag mini marshmallows
Chopped fresh fruit (bananas, grapes, strawberries, optional)
Open and drain all canned fruit. If also using fresh fruit, chop and set aside in a bowl. Soften cream cheese in a large bowl.
Mix Cool Whip and dry Jell-O, (just the powder) with the cream cheese. Make sure that all of the sugar/powder from the Jell-O is dissolved. Finally, add the marshmallows and canned/fresh fruit.
This may be served immediately, but chilling the fruit salad for 30 minutes to an hour before serving is best.
______________________________________________
Ham Salad Spread
2 c cooked grown ham
1 large dill or sweet pickle, chopped fine
Dash of salt
¾ c salad dressing
½ c chopped celery
½ tsp minced onion
Mix well.
______________________________________________
Ham Salad Spread
3 tbsp. mayonnaise
1 tbsp Worcestershire sauce
1 small sweet pickle
1 c cooked ham, cubed
Put all ingredients except onion in blender; cover and blend until smooth on high speed. Add ham. Cover container and run high speed until ham is chopped.
______________________________________________
Ham Salad Spread
2 c cooked ham (cut in 1 inch cubes) Coarsely chop in food processor.
2 stalks celery
6 to 8 green olives
2 green onions (optional)
Slice food in food processor. To above ingredients, add:
4 to 5 tbsp. mayonnaise
2 tsp. horseradish
Mix well.
______________________________________________
Sugar Free Pumpkin Pie
9-inch pie pastry
16-ounce can pumpkin
12-ounce can evaporated mil
3 eggs
¾ cup artificial sweetener
¼ teaspoon salt
1 teaspoon ground cinnamon
½ teaspoon ground ginger
¼ teaspoon ground nutmeg
1/8 teaspoon ground cloves
Preheat oven to 425*. Beat pumpkin, milk and eggs. Beat in rest of ingredients. Pour into pastry lined pie pan. Bake for 15 minutes. Reduce heat to 350*. Bake for 40 minutes or until knife inserted near center comes out clean. Cool on wire rack. Serve with sugar free whipped cream.
______________________________________________
Pumpkin Pancakes
4 cups biscuit mix
2 eggs
2 cups milk
1 cup pumpkin
1 tsp cinnamon
Powdered sugar
Mix well. Cook on griddle. Sprinkle with powdered sugar and cool whip, if desired.