~ Hi-Liting Glenns Ferry ~
<![if !vml]>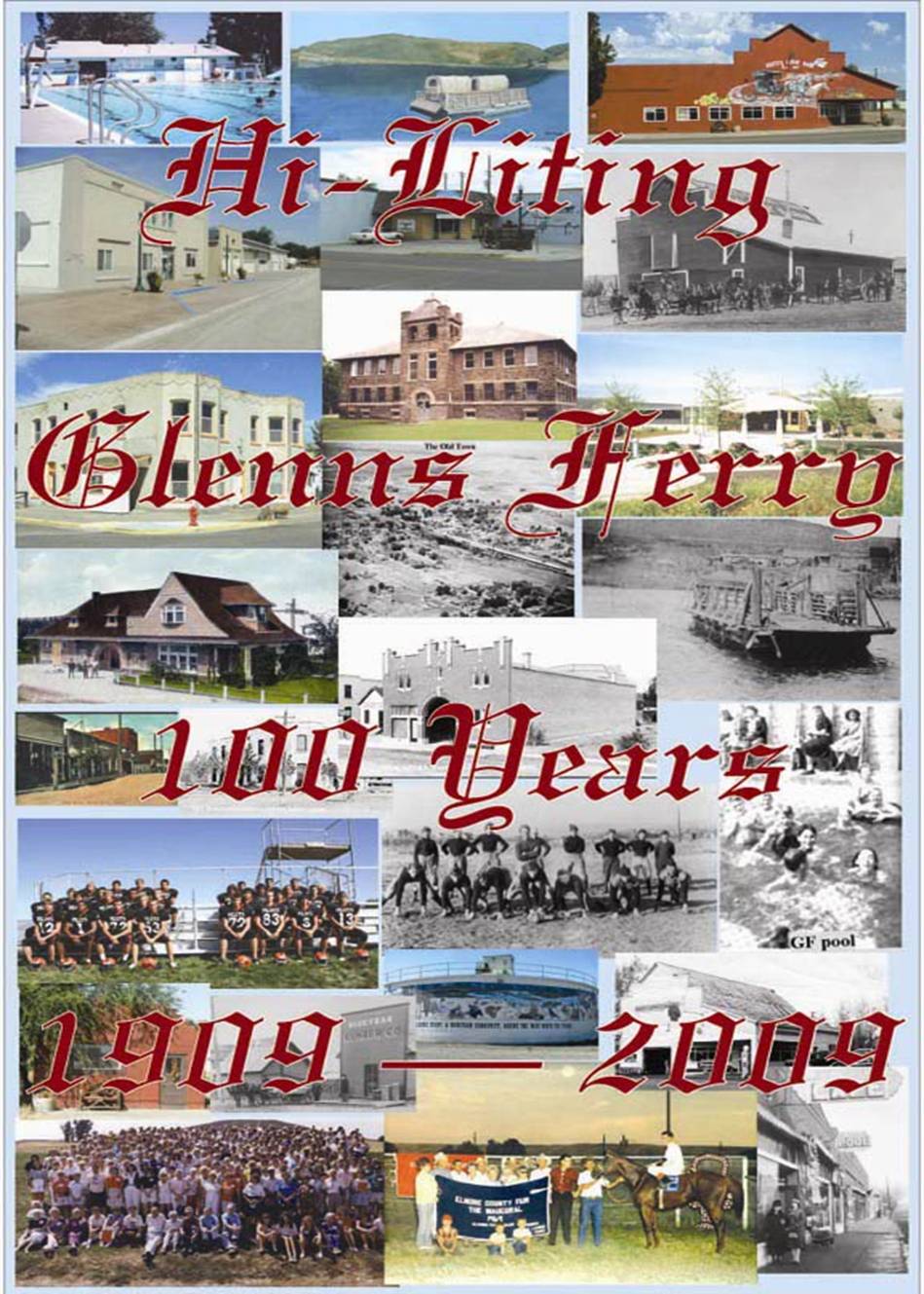 <![endif]>
  Glenns Ferry is truly a unique place, besides the step back into what feels like the old West with the architecture left from a time long ago, it's one of the friendliest most welcoming places still around. Located halfway between Boise and Twin Falls just off I-84 you should stop into this little gem and experience some of the unique shops and places to visit, promising of a time well spent. There you can find the Three Island State Park which is one of the most serene and well-maintained parks in the state. The Oregon Trail History and Education Center is a special treat located inside the state park which both commemorate the history there. Construction of The Oregon Trail History & Education Center was completed in 2000. Both park and center have a gorgeous view of the Snake River which is also good for fishing. Also in town, a great old theatre, registered on the national historic register, hosts weekend melodramas and dinner barbecues all summer long. So if you are lucky enough to be in town to catch a show it will be an experience to remember. For kids there is an immaculate community swimming pool, which is located in the local city park. Also a very nice boat dock area invites fishermen, water-skiers, and jet skies to take advantage of the cool water in the summer heat. And, if you are so inclined, an interesting old museum is situated in the middle of town and provides interesting historical facts concerning the area.
  Surrounding area provide snow skiing, hiking, camping, water-skiing, fishing, hunting, white water rafting, natural hot water spring resorts, cave exploration, off road dirt biking opportunities - even star gazing.
  Besides being a quaint town on the river, Glenns Ferry is loaded with history. Three islands in the middle of the river just southwest of town (by Three Island State Park) provided stepping stone advantage for Native Americans and early Oregon Trail pioneers to cross the river to the other side. This was undoubtedly the most notorious and dangerous river crossing on the Oregon Trail.
  We should mention some of our festivities. Elmore County Fair is held in Glenns Ferry every summer, and it is a good one! The fairgrounds are beautiful and well kept. A great carnival with plenty of fun rides and games accompanies the fair. Rodeos add to the festivities, as do many other community organizations.
  Glenns Ferry has an awesome hometown July 4th celebration complete with a parade, city park festivities with booths, kid games, and three-on-three basketball tournaments, (pool is open and boat docks are buzzing with activity)! Independence Day traditionally ends with compliments of the local fire department's fireworks display!!
  Thanksgiving weekend will find citizens lighting the town Christmas tree. Gathering at the Chamber of Commerce building, all listen to the Community Christmas Choir, followed by a nativity, ending with hot chocolate and cookies. Oh, and don't be surprised if Santa should come by on a stagecoach! You could possibly hitch a ride!
| | |
| --- | --- |
| <![if !vml]><![endif]> | <![if !vml]><![endif]> |
| Old High School Building | New K-12 School Building |
Glenns Ferry School District is a small, rural school district consisting of approximately 500 students PreK-12 and approximately sixty-two certified and classified instructional staff members. The District is comprised of Glenns Ferry High School (grades 9-12), Glenns Ferry Middle School (grades 6-8), and Glenns Ferry Elementary School (grades PreK-5). All three schools are housed in a single facility complex with three wings dedicated to the individual schools. 100% of the Glenns Ferry teachers are considered highly qualified according the Federal "No Child Left Behind" Act. All teachers are fully certified by the State Department of Education for the subjects they teach.
| | |
| --- | --- |
| <![if !vml]><![endif]> | <![if !vml]><![endif]> |
| Old jail north of city | Sheriff's sub-station |
Law Enforcement is provided by the Elmore County Sheriff's Office and has a sub-station located in Glenns Ferry.
| | |
| --- | --- |
| <![if !vml]><![endif]> | <![if !vml]><![endif]> |
| Glenns Ferry Public Library | Dale Smith & Junior Larson setting up at new location |
Glenns Ferry Public Library - serves an area of approximately 1,600 residents and has a collection of 10,000 books and periodicals; in addition, there are 100 CDs, records, cassettes and other audio materials. There are internet terminals available for use by the general public.
  The original library was established in with City Hall which was located in the old Koffee Kup building on Commercial Avenue. (Now houses Penner & Fink Insurance and Rural Telephone).
  The Library and City Hall was relocated to East 2nd Avenue into the old Grace Church Parish House/Grand Lodge A.F. and A.M. building.
  The Library now occupies the site where the railroad medical clinic was once located. Lily Hampton, librarian, has an excellent display and arrangement of historical pictures and items of the Glenns Ferry area.
<![if !vml]>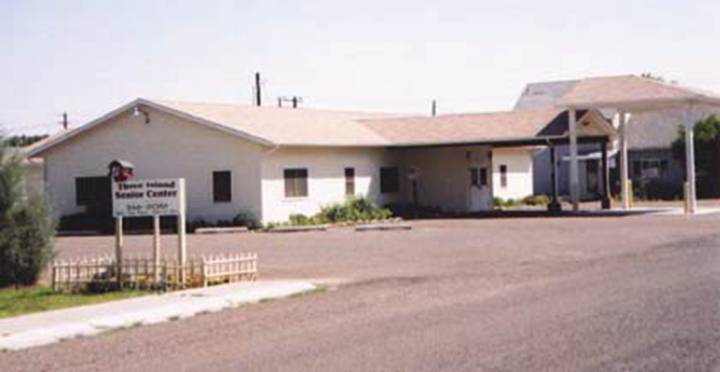 <![endif]>
Three Island Senior Center, located at 492 East Cleveland, is open Monday, Tuesday, and Thursday from 9:00 a.m. to
<![if !vml]>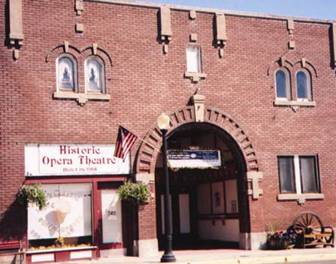 <![endif]>  <![if !vml]>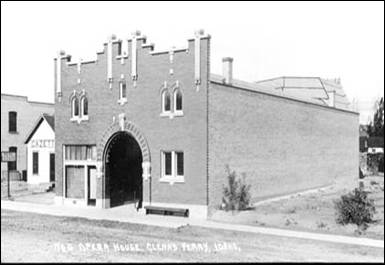 <![endif]>
Gorby Opera House, the Historic Opera Theatre, was built in 1914, originally for Vaudeville Stage Acts, and served the community of Glenns Ferry for many years. Fireman's dances, railroad events, and bazaars all took place in the building. Because a mortuary was next door, the main hall was used for funerals. In later years, silent movies with organ and piano accompaniment were popular. Through the effort of community volunteers the Historic Opera Theatre reopened its doors June 4, 1944, for live stage productions. Many community and cultural events have taken place. The reopening of the Historic Opera Theatre has brought back feelings of opportunity, unity, community, and plain good ol' fashioned fun to Glenns Ferry and surrounding areas. Showings are Friday and Saturday nights, and residents are encouraged to participate. The theatre is one of Glenns Ferry's summer highlights.
Three Island Crossing State Park - Modern travelers will find a stay at this park much more hospitable than did the pioneers. Located just off Interstate 84 at the Glenns Ferry exit, the park offers a full-service campground, cabins, picnic areas, historical interpretive programs and a fascinating admission-free interpretive center. You can take the self-guided tour, see the replica wagons and the Snake River where emigrants made their historic crossings. There is an Oregon Trail History & Education Center located at the park.
Glenns Ferry Municipal Airport serves Glenns Ferry and Elmore County and is owned by the city of Glenns Ferry. The airport is in the county, but lies adjacent to the city boundaries. The paved runway extends for 3050 feet and is 60 feet wide with medium intensity landing lights. The facility is at an elevation of 2,536 feet.
Chamber of Commerce & Area Businesses
<![if !vml]>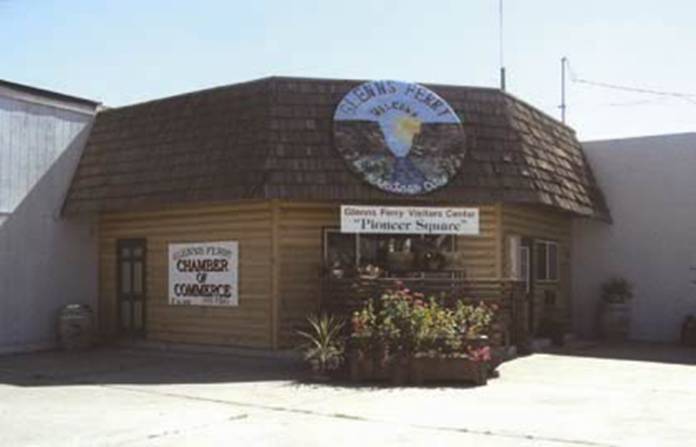 <![endif]>
Glenns Ferry Chamber of Commerce supports the community monetarily and through manpower. A great example is their generous donation to the downtown revitalization effort.
  Glenns Ferry Chamber actively supports all new businesses. The Chamber, as well as the city government, understands that the more Glenns Ferry has to offer, the less people have to travel outside the area. With the high cost of fuel today, it is especially important to have the necessary products and services close by to meet the community's needs.
<![if !vml]>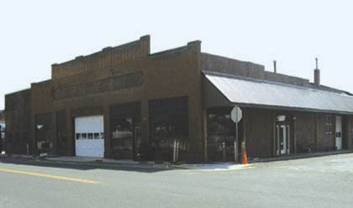 <![endif]>  <![if !vml]>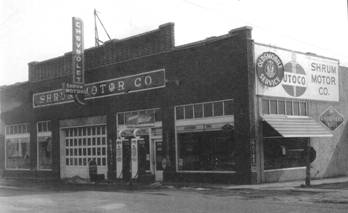 <![endif]>
  World Wide Equine, Inc. - Manufacturer of over 300 high quality horse dentistry instruments, is a family owned business located in Glenns Ferry, Idaho. World Wide Equine moved to Glenns Ferry from Nebraska in 1995. Glenns Ferry was chosen because of the friendly community and wonderful outdoor lifestyle. We have spent the last 3 years remodeling the building that was formerly known as Shrum Motor Company and now proudly call 91 W 1st Avenue our new home. We would love for anyone interested to come by and browse through our small 'museum' of antique horse dental instruments and wagons. We are dedicated to the advancement of general knowledge, maintenance and care of horses' teeth through education, improved instruments, related products and customer service.
<![if !vml]>
<![endif]>
Three Island Quilts - Located at 94 N Commercial St in downtown Glenns Ferry, Idaho. We are a full service quilt shop, carrying quality quilt fabric and products. We have everything you need to create your own handmade quilt. We have plenty of books and patterns to inspire you. We also offer long arm quilting services at affordable prices. Be sure to get your quilt tops in soon, before the Christmas rush. Call us at 208-366-3031 for pricing. Be sure to visit our website and online store at www.threeislandquilts.com. Be sure to sign up for our newsletter while you're there!
<![if !vml]>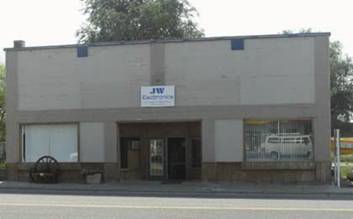 <![endif]>   <![if !vml]>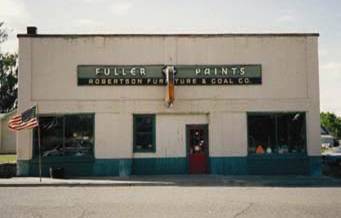 <![endif]>
JW Electronics - Since it's inception in 2005, JW Electronics has become a well-known supplier of high quality printed circuit board, electro-mechanical and cable assemblies. JW Electronics is a government classified Small Women Owned Business Enterprise and is certified to or conforms to several military specifications. It is our electronic design and manufacturing experience as well as our ability to deliver, which has given us a solid foundation to build upon.
  JW Electronics management and technical team have a combined 126 years of experience in our industry. Julie Winter founded JW Electronics when the Heath's retired and closed Heath Electronics. Craig Ogden in Purchasing & Design, Rosanne Gertsch in Quality Control, Sandy Stump in Project Management and Amy Taylor in Manufacturing comprise our Technical team. We started with a philosophy of excellence using a theory of total quality management and always strive to meet or exceed the expectations of our customers.
  JW Electronics is proud to be located in Glenns Ferry, Idaho.
<![if !vml]>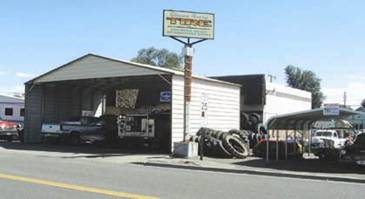 <![endif]> <![if !vml]>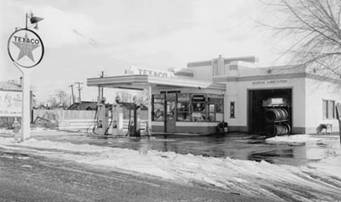 <![endif]>
Glenns Ferry Tire, Bob & Derik Janousek/Owners - Located at 249 W 1st Ave. in Glenns Ferry, phone 208-366-2689, Glenns Ferry Tire is well known throughout the area as being one tire store where quality is just as important as price. Your dealer for famous name brand tires, this community leader features tires for virtually every car and truck on the road, and their huge inventory allows you to "re-tire" immediately! Of course, mounting, balancing, studding and other services are offered by this outstanding establishment.
  In addition to tires, they specialize in brakes, A/C service and general repairs. They also have a full line of U-Haul trucks and trailers for rent. They are an ASE Certified Air Conditioning Service. They also have Coast to Coast car ports, all erected.
  Stop in today and see just what kind of quality your hard earned dollar will buy at Glenns Ferry Tire.
<![if !vml]>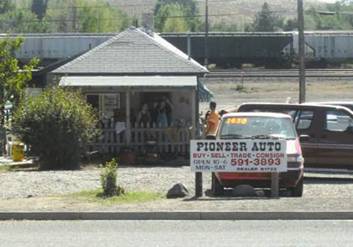 <![endif]>   <![if !vml]>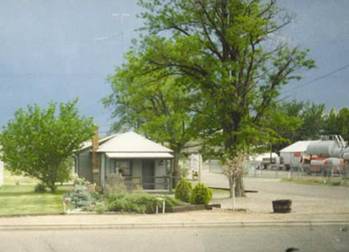 <![endif]>
Pioneer Auto - Located in Glenns Ferry, Idaho off of 1st, right across from the Sinclair Corner Market. Owners, Eric and Martina Hoyd, started Pioneer Auto in November of '08' and have been growing steadily, specializing in vehicles $3,000 or less. In-house financing available with proof of residency in Elmore County and proof of employment. No pressure sales, I am definitely not a car salesman, I'm just a guy that has cars for sale. One man operation, I buy, clean, service and sell all my vehicles. Support your small business; come by anytime Monday through Saturday 10-6. We live on our lot so later appointments are easy, just call and let me know. Pioneer Auto 590-1602.
<![if !vml]>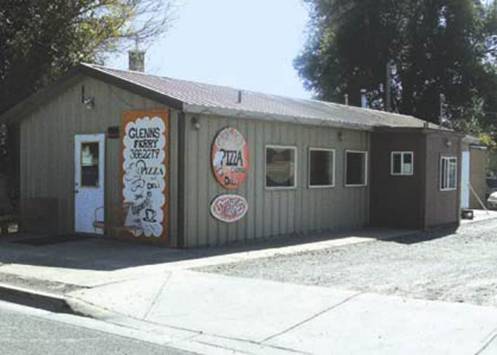 <![endif]>
Glenns Ferry Pizza and Deli - Larry Fisher opened this great little restaurant in July of 2006 and has been doing a booming business since. Besides the great menu items of lunch specials, deli sandwiches, pizza, and other items, a grill was added to serve up the best burgers around! The burgers are made from 1/2 lb. of Angus chuck and served with homemade baked beans, potato salad or a bag of chips. You have your choice of a Deluxe cheeseburger, Fair burger, Mushroom burger with sauteed mushrooms and Swiss, Teriyaki burger (grilled pineapple, cheddar, teriyaki sauce, lettuce & tomato), Brunch burger with grilled ham, fried egg and American cheese, and the Wagon Wheel with bacon and BBQ sauce.
  The Glenns Ferry Pizza and Deli also serves the best Rueben on the West Coast and a wonderful Patty Melt Brisket (sauteed onions and House Sauce).
  Stop by and as you enjoy your meal, you can see a bit of Glenns Ferry history as you glance around at the many framed historic photos on the wall. You can also purchase a jar of "Fisher's Gourmet Glaze Dipping Sauce".
  Glenns Ferry Pizza and Deli is located at 217 E 1st Avenue in Glenns Ferry, phone 366-2279.
Excellent Food!!
<![if !vml]>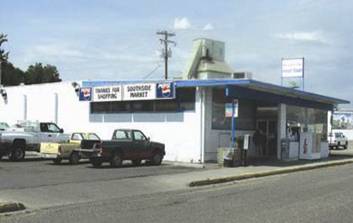 <![endif]>   <![if !vml]>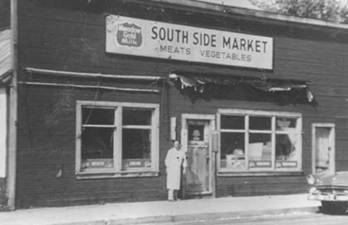 <![endif]>
Southside Market - (established in 1930) - The personal touch is just about gone from stores of all kinds these days. One store in Glenns Ferry hasn't forgotten what personal service and friendly smiles are all about, though, and we're talking about Southside Market.
  Located at 183 S. Commercial St., phone 208-366-7481, this "neighborhood grocer" has been helping local people with their food needs for many years, and they've built a business based on personalized service and quality.
  On their shelves you'll find all of your favorite brands of canned goods, dry goods, bakery products and such. Their dairy case features fresh milk, eggs, butter, and other items your family needs for good health. The meat department at Southside Market is regarded as one of the very finest in town and once you try their tender cuts of beef, port, and chicken...you'll see why!
<![if !vml]>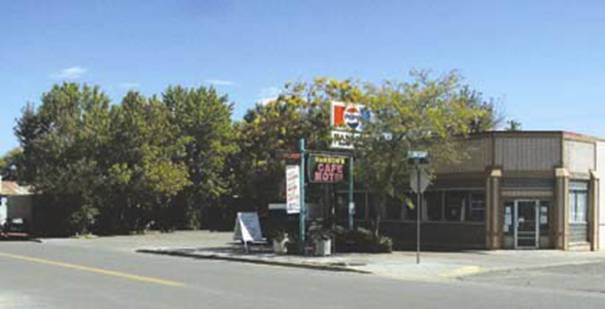 <![endif]>
<![if !vml]>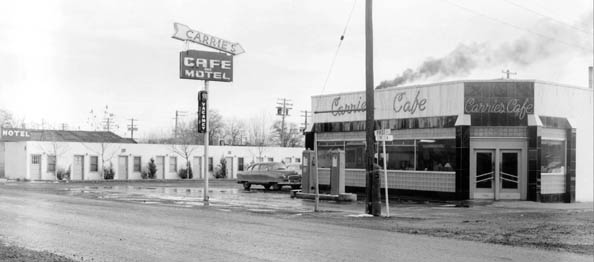 <![endif]>
Hanson's Cafe & Motel and B&R Bar (formerly known as Carrie's Cafe' and Motel) - If you're a traveler on I-84 and like quaint and friendly folks, stop in at Hanson's Cafe & Motel and B&R Bar, located at 103 E 1st Ave in Glenns Ferry, phone 208-366-9983.
  Consisting of accommodations to please every guest, this newly remodeled motel and cafe has HBO, cable, AC, affordable weekly and monthly rates. The nightly rate is $40.00, plus $5.00 for each additional guest.
  For home cooking and down to earth management regardless of your length of stay, you'll enjoy the dinners, and welcome from the folks at Hanson's Cafe & Motel. You can also enjoy cocktails, and pool at B&R Bar, just a few feet away.
  The consistent compliment is: Great Room!, Great Price!, Great Town! The owners, Ron and Bobbie Crone, find it a pleasure to serve and welcome new customers as well as old friends!
<![if !vml]>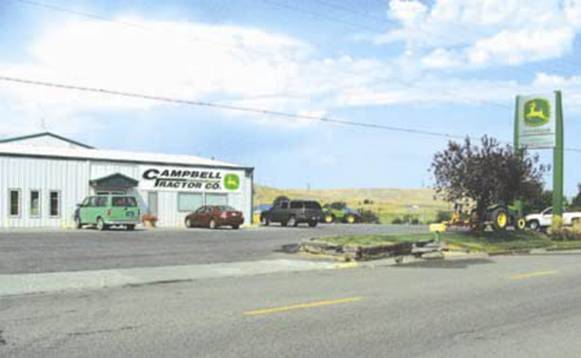 <![endif]>
Campell Tractor - Located at 233 N. Bannock St. in Glenns Ferry, Idaho, phone 366-2626, is a John Deer AG & C&CE dealership providing a full Sales Department, Service Department and Parts Department. They carry Treager Pellet Grills and a good inventory of Pellets, Spices & Sauces. You will also see they have a nice selection of toys and clothing. The Glenns Ferry store has been in business since 1990 and has served the area with great ethics and integrity. Whether you're looking for equipment, parts, or service, Campbell Tractor Co. will assist you in your needs. They have four other locations in Nampa, Fruitland, Homedale and their newest location in Wendell.
<![if !vml]>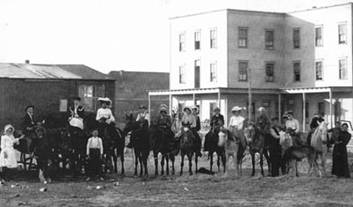 <![endif]> <![if !vml]>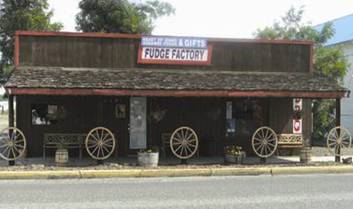 <![endif]>
Heart of Idaho Gourmet Foods, Fudge Factory and Gifts - Located at 160 South Commercial Street in Glenns Ferry, Idaho. Becky Critchlow started Heart of Idaho Gourmet foods in Meridian in 1995. After learning the Huckleberry end of the business in northern Idaho, Beckie and her family moved to Glenns Ferry and opened a full production line of fresh Gourmet Foods, Tasty Chocolates, Souvenirs, and several other gift lines.
  Along with the sweet side of the Heart of Idaho, they also have a variety of BBQ sauces, (my favorite is the Huckleberry BBQ sauce!), dried Idaho potato soup packages, potato toppers, potato bread, muffin mixes, and now BBQ Rib Dinners which includes your choice of side and baby loaf of homemade bread, don't forget the Huckleberry Ice Cream!!
  Beckie, husband Eric, daughter Jenn, and son-in-law Matt welcome you to stop in and experience what they have to offer. Their daily dessert specials and to go menu are guaranteed to have your mouth watering. The welcoming atmosphere makes you feel right at home, their smiles and outgoing personalities lighten your day, I guarantee it!
<![if !vml]>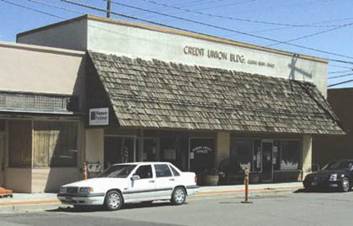 <![endif]>  <![if !vml]>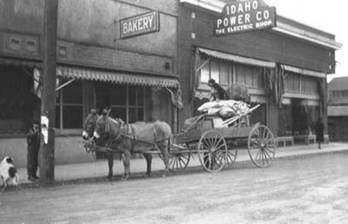 <![endif]>
Pioneer Federal Credit Union - is known for its commitment to the deep-rooted credit union philosophy of "People Helping People." Our commitment to improving the quality of life for our members and the people in our community is a tradition that dates back to the 1950's.
  We provide innovative, substantive, and low cost financial solutions, delivering honest financial rewards for our members through a comprehensive line of products and services to compliment any lifestyle and budget. We do this by simply offering low fees and great rates when you borrow and/or save.
  Pioneer Federal Credit Union is a growing family. Currently people who live or work in the following counties are eligible for membership: Ada, Canyon, Elmore, Camas, Blaine, Gooding, Jerome or Twin Falls, including Mountain Home Air Force Base. Employees of all retail, wholesale, manufacturing, cooperatives, industrial and distribution establishments located in the following Idaho Counties: Adams, Gem, Owyhee, Payette and Washington. In addition, all members of your immediate family are eligible to join.
  The Glenns Ferry Office is located at 70 S. Commercial Street, Phone: (208) 366-2462, Fax: (208) 366-2921, Hours Mon-Thurs 10:00-4:00, Fri 10:00-5:00.
<![if !vml]>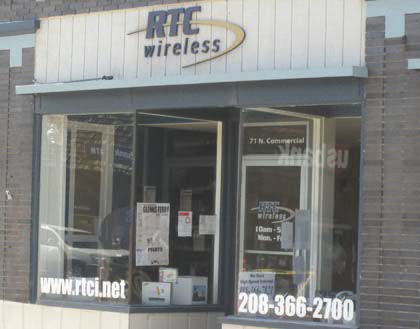 <![endif]>
Rural Telephone Company - Glenns Ferry, Idaho is home to Rural Telephone Company. This small town on the banks of the Snake River is also an historic landmark on the Oregon Trail. It was at Glenns Ferry that the pioneers decided to either cross the river into Oregon, or head west to California.
  The pioneer spirit that embodied the hardy breed of people that settled the West, lives on today in the men and women of Rural Telephone Company.
  Rural telephone serves remote areas of Idaho, Nevada, and Washington. The territory includes some of the most spectacular natural beauty in the entire United States. However, beneath its beauty is a rugged and often dangerous land of treacherous mountains, deep canyons, sun-scorched deserts and seemingly impenetrable forests. Winter snow drifts, spring mud slides and summer lightning strikes add to the challenge of providing telephone service to thousands of square miles of wilderness. For more than 2,300 subscribers, Rural Telephone Company is their primary link to the outside world.
  With a subscriber density of less than one per mile, Company technicians will often travel overnight to reach subscribers as close as 60 miles or as far as 600 miles from Glenns Ferry.
  The Company grew slowly as Mr. James Martell brought telephone service to previously un-served areas. In 1985, Boise River and Praire, Idaho as well as Jarbidge and Red Rock, Nevada were added to the service territory.
  Cable routes, often inaccessible to even four wheel drive vehicles, were walked by foot. Today, snowmobiles are often used to reach subscribers and helicopter rentals are not uncommon.
  In 1988, the North Fork and Tuscarora, Nevada exchanges were acquired. These systems were known as "shared/sometimes" systems - shared with coyotes needing a teething ring and cattle needing a scratching post. Sometimes they even worked, but not with any degree of reliability. The area including two of the largest ranches in the United States, and several large gold mining operations.
  Tipanuk and Atlanta, Idaho also came on board in 1988. Tipanuk is located between Mountain Home and Boise covering 139 square miles, but its twenty inhabitants needed a link with the outside world. So did the thirty residents of Atlanta, a 252 square mile area served by only two roads. One road is closed in the winter, and the other is "open if" the snow isn't too deep.
  The Company also assumed responsibility for the Shoup, Idaho area when the Idaho Public Utilities Commission turned to the Company to restore the existing, but rapidly deteriorating service; which featured magneto phones and aerial cable strung "on poles or whatever else was handy". This pristine country extends some 60 miles along the River of No Return. The availability of dependable phone service has made the area a major draw for fishing and rafting enthusiasts. A new digital system was installed in October 1990, an occasion that attracted Rural Electrification Administration (REA) dignitaries and national media attention.
  It is the everyday business of living in remote areas that make the telephone so valuable. Support of the Universal Service Fund (USF) has made it possible for the Company to provide service to un-served areas and upgrade service for existing subscribers.
  USF support and the extraordinary people of Rural Telephone Company are bringing modern telecommunications and an enriched quality of life to often isolated and overlooked areas.
  On February 28, 1997, Pend Oreille Telephone Company in Washington, became the wholly owned subsidiary of the Company. Pend Oreille Telephone Company has approximately 2,150 subscribers.
  Most recent acquisition was January 1, 2003 of Nehalem Telecommunications Inc. in Nehalem, Oregon. This brought an additional 3500 customers.
<![if !vml]>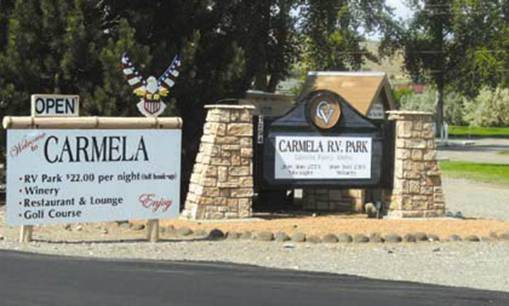 <![endif]>
Carmela RV Park - Located at 1294 West Madison Ave, Glenns Ferry, Idaho just north of Carmela Winery, along the #4 Fairway of the Golf Course. The RV Park has 15 sites. All sites are pull-throughs with trees, grass and full hook-ups. Any size of RV can be accommodated. The view of the golf course and mountains to the north, the vineyards, winery and the high desert to the south are beautiful and relaxing.
  The winery, restaurant, lounge, golf course, pro shop, driving range, horseshoe pit, and fishing pond are all within walking distance.
  Carmela RV Park offers courtesy bikes to tour Glenns Ferry or for a country road outing. We want to thank all who share this special place.
  The 2009 RV Park rates are $22.00 per night. Reservations are not required, but we recommend that you take advantage of the No Fee Reservation policy. For availability and reservations, call Stan Branch, 208-366-2773 or the Winery, 208-366-2313.
  Enjoy!!!
<![if !vml]>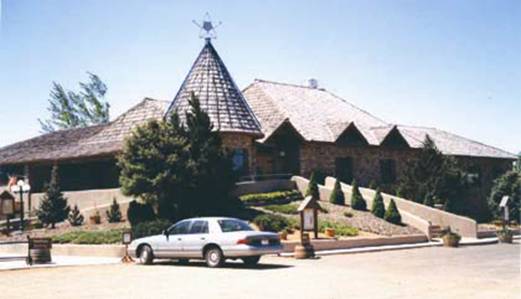 <![endif]>
Carmela Winery, Restaurant, Golf Course, and Lounge - owned and operated by Roger Jones, is one of Idaho's most complete wineries. Varieties of wine made include Chardonnay, Semillon, Riesling, Pinot Gris, Cabernet Sauvignon, Cabernet Franc, Merlot, Syrah, Pinot Noir. Thirty acres of vineyards surround the winery on a slope overlooking the Snake River. Carmela has a 60,000 gallon capacity in its growing wine cellar, and is complete with lab and bottling room, gift shop, restaurant, and a 9 hole 34 par golf course that winds through the vineyards.
  Visit our beautiful winery and spend some quality time tasting our award winning wines. Take a tour of our wine cellar. Stay in our cozy cabin, relax with a round of golf, have a refreshing drink in our lounge before enjoying a wonderful meal in our dining room.
  Banquet facilities are available for weddings, family and class reunions, conferences and other special events.
  Winery is open from 8:00 a.m. till bar closes.
Carmela Vineyards is located at 1289 West Madison, Glenns Ferry
Phone: 208-366-2313 * Fax: 208-366-2458
<![if !vml]>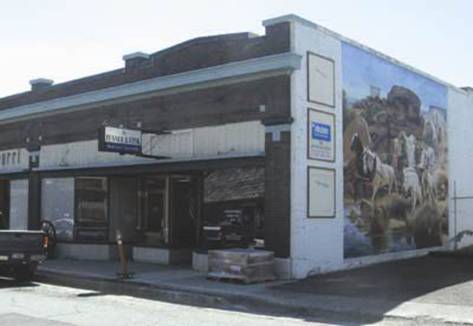 <![endif]>
Penner & Fink Insurance is a locally owned and operated insurance agency established in 1995. Dustin and Jonelle purchased the agency from K Clark who started the business in 1969. They specialize in personal service and help local families and business owners with their insurance needs. As an independent agency they are able to offer all types of insurance thru multiple line companies. Lillian Stump and Patty Villavencencio complete their exceptional staff. Patty is available to offer insurance assistance to their Spanish speaking clients. Located in downtown Glenns Ferry they service all of Elmore County and beyond. Please stop by for a visit or give them a call for a free quote.
<![if !vml]>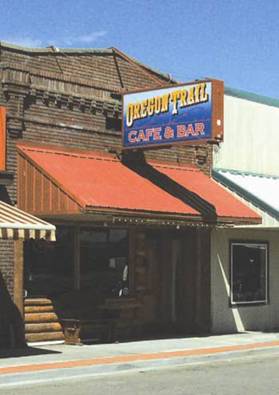 <![endif]>   <![if !vml]>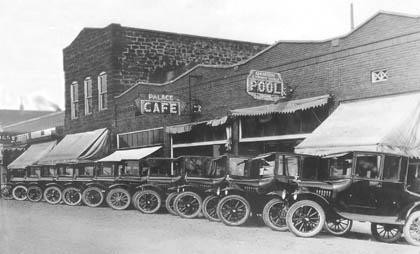 <![endif]>
Derail/Oregon Trail Cafe & Bar - located at 37 E Idaho Street, is family owned and operated. Established in 1887 as the Derail Bar and a favorite place for Rail Roaders to relax and enjoy a cold one. The old mirrored, marble back counter from the old pharmacy in town is still part of the decor. It has been updated to a cabin decor with a counter that was made from a pine log out of the Rocky Bar area.
  We are famously known for our large half pound variety of burgers. We also serve Buffalo Burgers home-raised out of King Hill on Summer Creek Ranches.
  There is a full menu including breakfast, lunch and dinner, with everything from ham & eggs to T-bone steaks, and all the trimmings. A full bar with friendly bartenders is also there to greet you.
  So for a Sunday drive, dinner out, or a Saturday night fun time, come visit the Derail/Oregon Trail Cafe & Bar and say hello to everyone. Here - you are treated like one of the regulars. There's no stranger at the Derail!!
<![if !vml]>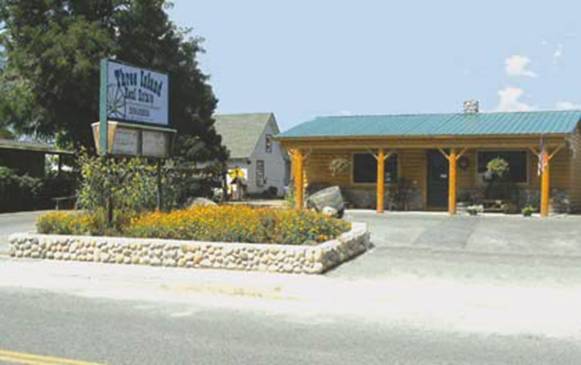 <![endif]>
Three Island Real Estate - Located at 22 E. 1st Avenue, Glenns Ferry, Idaho. Welcome to Glenns Ferry! Let us introduce ourselves, we are Dennis and Jill Laib. Dennis is the broker of Three Island Real Estate; and I am his wife and agent, Jill. I am a life long resident of Glenns Ferry; and Dennis spent years as a child in King Hill. His family moved to another state, but Dennis returned to Glenns Ferry in 1975.
  Dennis has been a journeyman electrician for years and knows this area very well. We also own and operate Three Island Storage and have rental properties. We have farmed since 1978 and have seen the farming industry first hand. Dennis' background in the electrical business, farming and property management gives added experience and knowledge to better serve you in this area of Idaho. We are very passionate about the rich history we have here and have enjoyed working with many others in helping to see the Oregon Trail History and Education Center built at Three Island State Park; as well as a revitalization project to beautify our town and accentuate its heritage. Glenns Ferry has many great amenities as well. For a small community, there is much here!
  We really enjoy spending time with our family of 4 children, two daughters-in-law, a son-in-law and two darling granddaughters!
  We love this area of Idaho, and the town we live in. We are not only anxious to share with you our properties for sale; but are always excited to see great people move into our area and enjoy what we enjoy. Come visit us and see for yourselves! Phone 366-2253, Cell 599-0703.
  Dennis and Jill would like to extend a sincere "Happy 100th Birthday, Glenns Ferry."
A Wee Croft Kitchen - My husband, (sous chef & technical manager) and I started in 1998 at the Mountain Home Farmers' Market, with sheep pelts, fiber, soap, eggs, sausages, and a hibachi. We were sheep producers and hand spinners of wool trying to make it all pay.
  The hibachi was for the purpose of offering tastes of our lamb polish sausages to the public. Well, we sold out of sausages the first day! The next market we got requests for sandwiches. So we went back to the Health department to find out what was required. Meeting requirements and license in hand we offered both breakfast and lunch.  Then we were approached to cater and do concessions at locals sporting events. To better prepare myself for the future, I completed a Culinary Arts Associates of Applied Science degree with honors at the College of Southern Idaho. Formal training plus nine years experience in the food service industry makes for a good foundation to build a business.  From our humble hibachi beginnings we now have three units to work from depending on the event/menu, a 4'x7' trailer with grill, burners, steam table and sinks, a 6'x10' grill and smoker; and a 8'by 24' enclosed trailer that contains a complete commercial kitchen.
  We particularly love events that celebrate the togetherness of the family. To date we have done open houses, class reunions, birthday parties, family reunions, sporting events, organizational events, and fundraisers. We can comfortably handle up to 250 people.
  I have also hired out to assist young mothers and recovering surgery patients put away some replacement meals.
  The bottom line is I found something that makes my heart sing!
A Wee Croft Kitchen has formed a subdivision - Gramma Gianelli's Pantry! We bake three days a week and have returned to the Mountain Home Farmers'Market (where we began in 2000) on Saturdays. We usually have two to four types of bread in full and half loaves, lemon poppy seed and orange cranberry bread in several sizes, cherry & apple turnovers, and now dog biscuits! There's usually a surprise or two in addition. Just call or email by Wednesdays and deliveries will be made at the market on Saturdays until the end of the market (October 31st). The good news is that we'll be baking through the winter months too, and especially for the holidays. Deliveries in Mountain Home and Glenns Ferry will be available. Look for our new flyers and the website soon for more details. chefdarlene@aweecroftkitchen.com or aweecroftkitchen@mindspring.com or at 366-2413 or 599-0223
Main Street Garage - owned by Jimi Orr, moved to Glenns Ferry from Connecticut. Jimi enjoys the great outdoors and the friendly community that Glenns Ferry has to offer. He is ASE Certified and prides himself in being a man of integrity and getting a job done right. So if you locked your keys in your car, your car is making strange noises or simply stops running, Main Street Garage can come to your rescue. And if you can't locate Jimi you may be able to find him out on the golf course! Hours of operation are Monday through Saturday 8am to 6pm, located at 102 East First Avenue in Glenns Ferry.
<![if !vml]>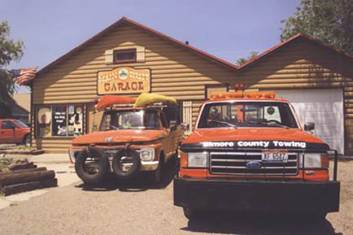 <![endif]>    <![if !vml]>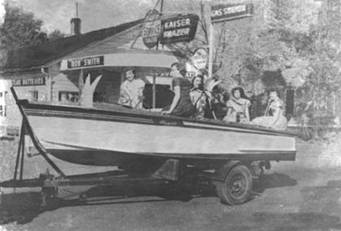 <![endif]>
The photo above right was taken in 1952 when it was the Kaiser - Frazer Gas Station. The girls riding in the boat were (l-r) Elaine Carnahan Pachnar, Cherrie Wood, Mary Anne Barnes/Colson, Shirley Allred Lyle, Fern Schwager, and the small child is Anita Barnes Lowen (Mary Anne's sister.
<![if !vml]>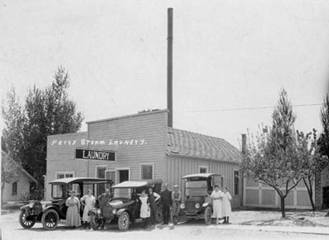 <![endif]>   <![if !vml]>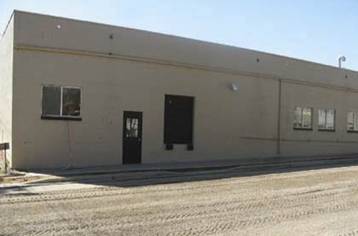 <![endif]>
Diamond Laundry, Inc. - Clarence 'Clix' King and McSherry purchased the old 'Ferry Steam Laundry' in a bankruptcy in 1948. They changed the name to 'Diamond Laundry'.
  In 1957 Richard 'Dick' King, son of Clix, purchased Diamond Laundry to keep it as the family business. In 1977 a complete remodel of the building took place that took about a year.
  Dick sold Diamond Laundry in 1993 to Kevin King, Doug King and Pam Darrington.
<![if !vml]>
<![endif]>  <![if !vml]>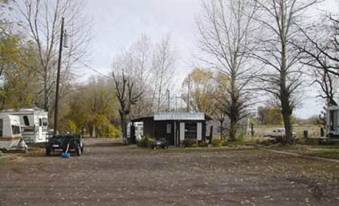 <![endif]>
Trail Break RV Park was established around 1949. At that time it was named the Trails West Trailer Court and Campground. The trailers were small and carried names like Fireball, Shasta, Aristocrat, Airstream and Scotty. Two of these trailers could be parked on a space that now accommodates only one large motorcoach. Times have changed and so have the owners. It has changed hands numerous times over the years. In the early 1950's part of the park was acquired by the state for the construction of a bypass road. Today we refer to this road as "Old Highway 30" or Frontage Road. The park acquired what was left of 4th Avenue from Elmore Street to Bannock Street.
  Trails West became the Trail Break RV Park about ten years ago. It is now operated as an RV Park and Campground. New owners acquired the park in October, 2005. Since then extensive renovation of the main building has taken place. A western style facade was added and old west memorabilia can be found adorning the building's walls. In addition many old dead trees have been removed and new trees, shrubs and a waterfall have been added. Tent spaces were created in the east 'meadow' with small fire pits, grills and picnic tables. Many of the mature trees are still providing shade and respite from the hot summer sun to RVer's and tent campers. There are now 28 full hookup sites and 8 tent sites. Restrooms with showers and a laundry room beckon to tired travelers or weekend guests. Cable TV, Wi-Fi, and a small play area for children are also available.
  The Trail Break RV Park is located within the city limits of Glenns Ferry at 432 N Bannock Street. It is open all year. If you are coming to visit our town, stop and say hello.
  N. Kurtze and B. DeWilde, Owners 208-366-7745
<![if !vml]>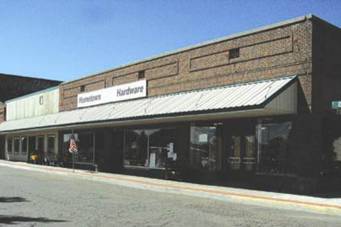 <![endif]>    <![if !vml]>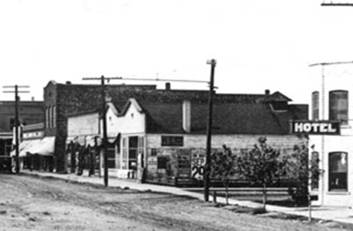 <![endif]>
Hometown Hardware is owned by Larry and Cheryl Rose. Remember when you could go to the hardware store and find anything you needed? Well... you still can at Hometown Hardware & Gifts, located at 90 E Idaho Street in Glenns Ferry, Idaho.
  Hometown Hardware & Gifts is one of the largest stores in Glenns Ferry and the business is operated to accommodate the citizens and visitors in the area.
  From housewares & hardware to plumbing & electrical, you can find just about anything you ever need, for whatever project you are working on. They have one of the largest selections of screws, nuts, and bolts. There is paint and paint supplies, and lawn and garden supplies as well.
  The outdoorsman can find fishing, hunting and camping supplies. Gardeners can find a wide variety of garden tools as well as lawn accessories, fertilizer, potting mix and plant food. (by the way, the plants aren't for sale).
  The houseware section has cleaning and kitchen supplies along with cookware and bakeware. There is even a Rug Doctor for rent.
  You will find numerous gifts in the gift section for just about anyone. Soy candles from Bean Pod, lotions from Camille Beckman, Willow Tree decorative ornaments, Cherished Teddies, just to name a few. There are gift cards and gift wrapping supplies as well.
  Stop in and visit Hometown Hardware & Gifts, you will truly find just about anything you need. 
  Larry and Cheryl would like to congratulate Glenns Ferry on 100 years!
Martin House and Martin's Jewelry Store - The house (pictured above right) belonged to D.W. and Myrtle Martin. The Martin's cleared 18 acres of land along the Snake River and ferried all the sandstone blocks across the river to build the house. Mayor JoAnne Coon-Lanham and her brother Jack Coon were born in this house. The property belongs to Gib and Melanie Brown.
  The Martin's also owned the Martin's Jewelry Store. Mr. Martin was the official watch repairman for the U.P. Railroad. It was a familiar sight to see U.P. conductors, brakemen and various other U. P. employees stop by the store and check the time on their pocket watches with the big old grandfather clock that stood in the front of the store.
  The store was in business for over 40 years, but was destroyed by fire in 1965. The store building was rebuilt and was used for various businesses over the years. It is now the Quilt Shop owned by Bill & Sue Hopper.
<![if !vml]>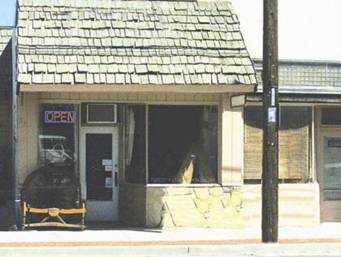 <![endif]>  <![if !vml]>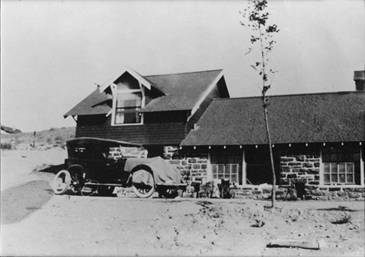 <![endif]>
Pictured above left is a recent photo of where Martin's Jewelry Store was located before a fire destroyed it. Above right is a photo of the old Martin House. As you can see by the photo, the house was well constructed and the photo directly below is what the house looks like today, which is currently owned by Gib and Melanie Brown.
<![if !vml]>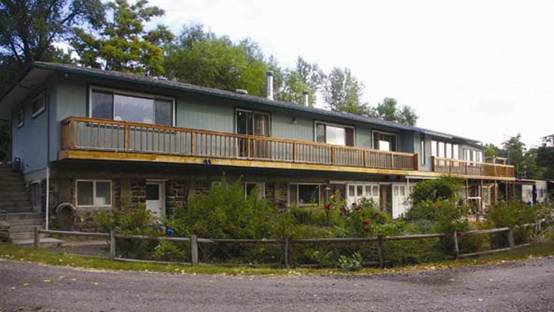 <![endif]>
Revitalization Project
  Glenns Ferry Revitalization Committee was formed October 2006 and has made great strides. The Committee is very interested in preserving the diverse history of the area. By showcasing the history and combining it with the preservation of many older structures, the town is artfully being given a much needed face-lift.
  Many of the older buildings have been in use since they were built, some are restored and other torn down. The Gorby Opera House, Shrum Motor Company Building, and the Commercial Hotel are just a few that have been renovated.
  The Committee has been rejuvenating the Old Livery Barn on 1st Street. It received its first coat of paint in 2007 and the second coat in 2008. Also a local artist was commissioned to paint a horse drawn buggy on the barn identifying it as "Bostic's Livery Barn". The artist also painted a mural on the old Simplot Tank. The history of Glenns Ferry is depicted in panoramic view. A mural on the side of a historical building downtown depicts the pioneers crossing the Snake River.
  The Chamber of Commerce has enhanced the parking lot with an old wagon filled with a variety of flowers and lights. A four sided Town Square Clock is being installed on the corner of 1st Avenue and Commercial Avenue.
  Sidewalks have been torn out and replaced, with added brick pavers and three curb cuts.
  The Committee is placing dark green, old-fashioned, decorative and functional street lamps throughout the downtown. The lamps will be offered for sale and the purchaser has the option of having their family or business name on the brick-red banner that hangs from the lamp. The center will have the choice of five icons with the establishment date of 1909: wagon, wheel, steam engine, dream catcher, or water wheel.
  Teak wagon wheel benches have been strategically placed around town. The purchaser will have an identifying plaque attached.
  The revitalization of Glenns Ferry would be just a vision of the Committee, but with grants, the cooperation of the City, property owners and a lot of volunteer help, it is a vision that has become a reality.  
Source: Vicki Smith, Glenns Ferry Community Profile
<![if !vml]>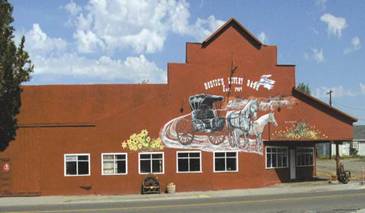 <![endif]>   <![if !vml]>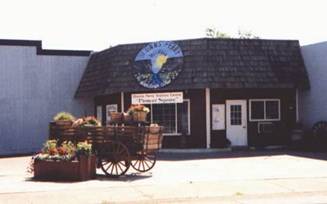 <![endif]>
<![if !vml]>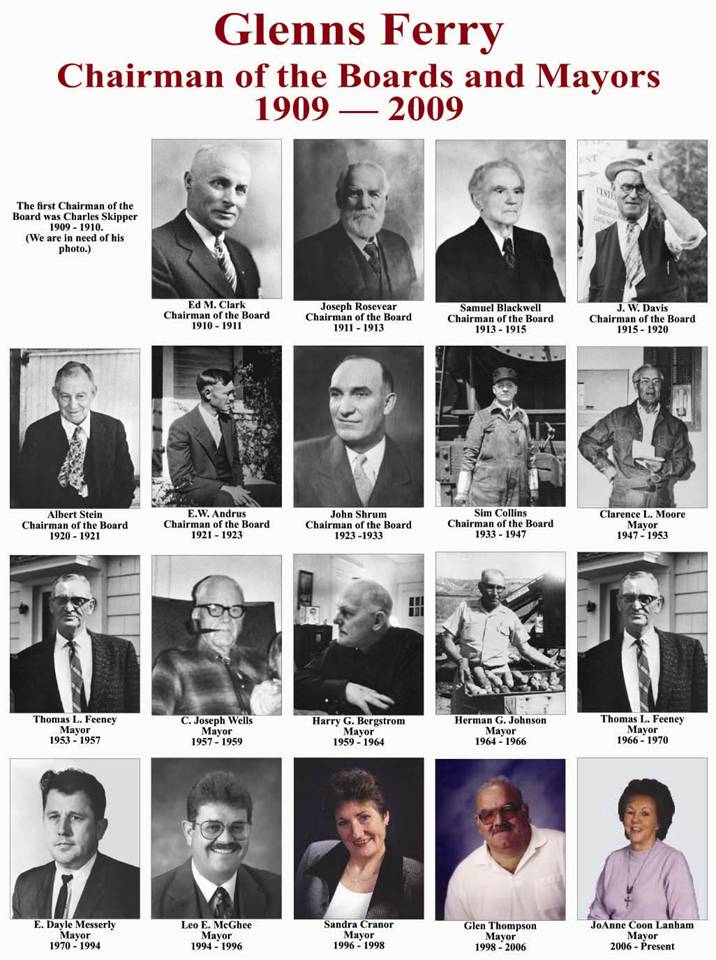 <![endif]>
Glenns Ferry History
  Back when the mighty Snake River was wild and untamed, it was very dangerous to cross. The water was deep, fast, and extremely cold. However, crossing the river saved many miles of travel to Fort Boise. Wagon trains made the crossing near present day Glenns Ferry, Idaho where three small islands were situated like stepping stones across the river. These three islands split the current into channels and made crossing easier. Where the channel was most narrow between the bank and the first island, they pushed in their cattle and wagons, crossing island by island, family by family. They crossed knowing that one simple mistake could mean disaster for their family by the swift under-current that had taken many lives before.
  The pioneers knew this crossing well. It was one of the most famous river crossings on the Oregon Trail.
  The Oregon Trail played a significant role in the exploration and settlement of the Pacific Northwest. The original course of the Oregon Trail was from Independence, Missouri to Oregon City in Oregon's Willamette Valley. Most Pioneers traveled the trail from 1841 through 1848. Native Americans had been using the known trails and passages for thousands of years and introduced these routes to trappers and explorers who used the travel corridor as early as 1811. By the mid 1860's, the trail was used little as an emigration route.
  Five hundred "Oregon Trail miles" passed through South Idaho. Back in those days the pioneer emigrants entered the southeast corner of the state near Soda Springs. At Fort Hall, the trail followed the south bank of the Snake River to a suitable crossing called Three Island Crossing.
  Pioneers had a difficult decision to make before continuing westward...risk the dangerous crossing of the Snake, or endure the longer dry and rocky route along the south bank river. The rewards of a successful crossing were a shorter route, more portable water, and better feed for their stock.
  Long before there was anyone at a place called Glenns Ferry there were Native Americans using what was to become the Oregon Trail. The trail of Chief Buffalo Horn, the Shoshone Indians, the Bannocks and other Native American tribes was the link between the Indian cultures of the Plains and the Midwest who hunted buffalo, and the ways of the Northwest tribes whose dietary staple was salmon and other fish. At the Three Islands, these cultures met.
  The three island crossing of the Snake River by pioneers was more than just a test of will, stamina, and brute strength. The crossing was a transformation from one culture to another, from one country to another. The crossing was the place where you either committed to the new West or you went back. Those who crossed had clearly committed to their right of Manifest Destiny.
  In the spring of 1883, the locality was invaded by a force of tracklayers. It was at this time, when the construction crews laid the tracks of the Oregon Short Line Railroad, that the actual town of Glenns Ferry came into existence. The establishment of a post office, and O.S. Glenn having been appointed postmaster, the site required a formal name. And what more suitable a name than "Glenns Ferry" in recognition of the contributions made by the Glenn family. The railroad led to the eventual discontinuances of the ferry boat service around 1889.
  In 1886, W.M. Stockton platted the land that Glenns Ferry stands on. He owned the town site for several years and watched Glenns Ferry grow into a thriving and prosperous town.
  But the town was not without setbacks. Fire hit the town not only in 1893, but in 1897 and 1906.
  The devastating fire in 1893 destroyed the business portion of the town. The destruction included a drug store, post office, store and warehouse, saloon, meeting hall, lodging house, meat market and barber shop. Several residences were destroyed. But the buildings were soon replaced and Glenns Ferry continued to survive.
  But four years later (1987), another fire destroyed more businesses. Included in that fire was a hotel, restaurant, saloon, shoe shop and another restaurant that was vacant.
  By the time Glenns Ferry was incorporated in 1909, the latest fire had destroyed more buildings. But each time rebuilding was done. A year before it was incorporated, the town had the following businesses: a large general Merchandise store, Mercantile Co. that supplied staple goods to sheep camps every week, a bank, meat market, lumber company and hardware store, an economy store, drug store, two-chair barber shop, livery stable, lodging house, and a tailor shop. There was also a cigar store and a saloon.
  The proprietors of these businesses were the Commercial Club. They were responsible for many good things done in and for the community until the incorporation of Glenns Ferry in 1909.
| | |
| --- | --- |
| <![if !vml]><![endif]> | <![if !vml]><![endif]> |
| Glenns Ferry Idaho Street 1906 | Idaho Street 1952 |
<![if !vml]>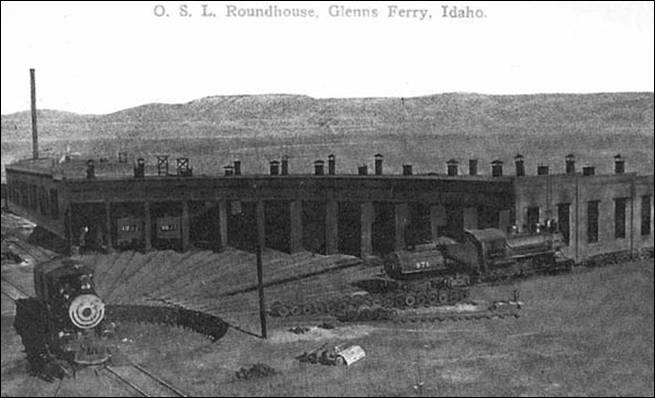 <![endif]>
The Oregon Short Line Roundhouse was built in 1886. Shops were moved in from Idaho Falls, and a depot, coal platform, ice house, pump house, store, and office building were built making Glenns Ferry an important division point for the railroad in 1887.
~ GLENNS FERRY ~
GUS GLENN AND HIS FERRY BOAT
  Gus Glenn started west in the early 1860s. By 1863 he had acquired a freight wagon and ox team and was hauling freight on the Oregon Trail. That trail was the main route across the Snake Country as Southern Idaho was then called. It was a long, dusty and dry trip from Fort Hall to the Snake River Crossing. .
  For almost twenty-five years, since the opening of the trail, the Three Island Crossing at Glenns Ferry had been one of the few ways across the Snake River. This treacherous crossing had claimed many lives and wagons in those years and with the increased freight-wagon traffic on the trail it was a huge bottleneck to the movement of supplies and freight through the country. The Idaho City and South Boise gold fields were ripe markets for all kinds of merchandise to be sold and most of it was being brought in from the Columbia River to Walla Walla and then overland to the gold camps.
  Glenn and his big freight wagon pulled by a twenty-ox team began to haul from the Union Pacific railhead as it crossed the Continent. He came from a prominent family and had come out west to find his fortune. He immediately saw the opportunity at the Three Island Crossing and began to take advantage of it. With the railroad coming and the gold being discovered in the mountains he knew it wouldn't be long until the trail was a major freight route. Along with the ferry he founded a town and helped build a large stone house that still stands after more than 140 years.
  Gus Glenn found that the Three Island Crossing was a dangerous and tricky business to get the big wagons and their heavy loads across the powerful river. Chains and ropes and swimming the oxen across and then the long pull from the other bank made it a life-threatening job to get the merchandise over. Gus knew that there was no money to be made by goods that went to the bottom of the river. Costs were high enough let alone paying for merchandise that wasn't delivered. Uncle Ezra Meeker had ferried folks across the river a few years earlier but he didn't establish a permanent business.
  Just upstream from the Three Island Crossing was a flat piece of water. Gus took a look at it, rode his horse out into the river and took some depth readings. Yes, it was deep enough for a ferryboat to have draft enough to haul the heavy loaded freight wagons across. There were high banks on either side, just right for cutting down into a driveway for loading a ferry.  The cable would be high enough, dead-manned into the banks that it wouldn't interfere with the operation; an ideal situation for an up and coming fellow that was interested in making some money.
  Glenn went back to Fort Hall and telegraphed his family to send cable, pulleys and barrels of tar by the Union Pacific. In the meantime he contracted for lumber to be sawed for the boat.  There wasn't any timber except cottonwood along the banks of the Snake River and he needed good planking to build the boat and its strong deck. The hull had to be waterproof and not get waterlogged. The tar would do the trick for that.
  Gus's father, Harvey, knew that his son was no fool and was on to a moneymaking proposition out there in the Snake Country wilderness of Idaho Territory. He got the cable, pulleys and tar, along with nails, bolts and hinges that he thought his son would need and shipped it all off to Gustavus P. Glenn, c/o Union Pacific freight depot, 'end of track'.
  By the time the equipment from his dad arrived Gus had the lumber ready and loading the cable on the top of the planks he geed and hawed the oxen out onto the Oregon Trail headed for the Three Island Crossing. He wanted to get the boat built and the ferry running while the water was low in the late fall. Then he would be set for the spring rush of traffic. 
  He set up camp on the south side of the river and began to build the boat. He needed help and hired a couple of men who were looking for a few dollars to tide them over until they could get to the great new gold find at Rocky Bar. The three of them began working to build the boat. Gus having never built a boat before but being uncommonly perceptive in seeing how things worked just by looking at them and having seen several ferry boats in rivers at home, had no trouble in designing it in his head and since he had his own freight wagon right there he knew how long and wide it had to be. The main concern was for it to bear up the weight of a loaded wagon without sinking.
  They built the boat, caulked and tarred it and put on the deck. It looked good and it floated; that too was a good sign. They put in the dead-man and connected the cable to it with the clamps that Gus's dad had thought to send. Then Gus swam his horse across the river pulling along the rope that would be used to pull over the cable. Bringing the men over in a little bullboat they dug the hole for the dead-man on the north side and got everything ready. Now the trick was to get the cable across. The rope was too long for heavy pulling but if they tied the cable to some cottonwood logs and brought it across that way it just might work. Gus swam two yoke of oxen across to the north side and left the men on the south to feed out the cable and attach it to the cottonwood logs.
  Glenn had the oxen in the water as deep as they would stand while he swam around and hooked the rope to the doubletree. The shorter the pull the better. The men on the other side gave him the signal and he geed and hawed the big animals slowly up the bank, watching the cable come off the other side and the cottonwood logs begin to float. The current began to take it down stream and he knew that he wouldn't get it across if it got away.  The team pulled the rope tighter and it was wet and stretched. Then, it came taught as the stretch went out of it and the logs with the cable pulled on across as the men pulled it out on the far bank. The log came out on the north shore and he stopped the oxen and backed them up and hooked a chain to the cable and to the doubletree. Now he had the cable across.
  The men came across and they had a little celebration for getting the cable over without any mishap. But the next day was hard work connecting the cable to the dead-man and pulling it tight and up above the water. That took two days of hard work. Finally it was in place and they went back to the south side to attach the ferry to the cable. That was no easy job. It was big and awkward and heavy but finally after a great deal of work using the ox teams to get it in place, it was on the cable and floating.
  They pulled the boat across and then back. It worked fine. But the big test was how would it work with a load?  They built the ramp to the boat and loaded on four oxen. They went across fine. Loaded two more for a total of six, over and back without a hitch. Next came the big freight wagon. They backed it on empty, no sense in tempting the water gods of the Snake River too much at one time. It went across fine even with a wind blowing down the river. The boat came taught against the cable and held fine even with the current and the wind putting a heavy downstream stress on the cable.
  The big test was to load the wagon with rocks and put it on the boat and take it across, how much load did they want to try? Gus said, "load  'er up, let's see what she can haul. If it breaks we have to fix it or it's no good for the work it has to do. Load 'er up." They hitched up the oxen and went up hill and loaded on a big load of lava, more than the load any wagon would ever haul on the Trail. But he wanted to make sure his ferry was good and right and probably most of all would make money.
  They backed the loaded wagon on to the ferryboat. It went down until it had only about 5 inches of freeboard. They poled it away from the bank and as the current caught the boat the cable tightened against the weight of the loaded wagon. The cable stretched and the pulleys creaked as the ferry crossed the river. But it held and on the return trip Gus offered the two men jobs as freighters on his wagon while he stayed and ran the ferry. 
  Gus Glenn built a little dugout on the north side of the river and began to run the ferry charging $5.00 for each wagon he took across the Snake. Soon, the transcontinental railroad was completed and Glenns Ferry was a stopping place on the Kelton Road and folks began to settle there. But that's another story.
<![if !vml]>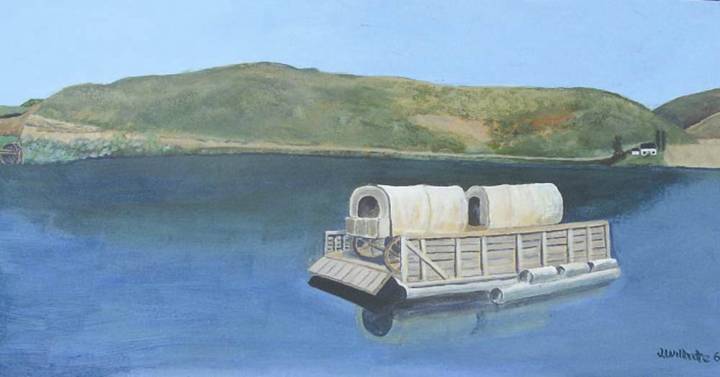 <![endif]>
<![if !vml]>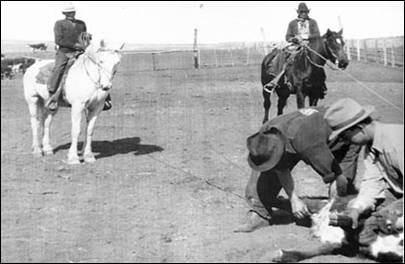 <![endif]>
Glen Brothers at Branding Time.
Horace is on the white horse and Charlie is on the darker.
Roy Glen and Sam Blackwell on the ground
Copyright 2001, John Hiler
All rights reserved
Sources,
Stein – Hiler Family
Charlie & Roy Glenn, recollections
Glenn Family – Jenny Glenn archives
Groefsema, Elmore County Gleanings
Ransel & Durand, Crossroads
Glenns Ferry Historic Museum
Glenns Ferry Historic Museum - located in the old schoolhouse, was built of native stone in 1909. Since 1986, five rooms and a large entrance hall have been restored and have many interesting artifacts pertaining to the area. One room contains the history of Glenns Ferry, King Hill and Hammett schools. Another room contains interesting railroad memorabilia and many military articles and souvenirs. Across the hall is a room filled with nostalgia of the past including kitchen area, clothing, toys, tools, etc.
<![if !vml]>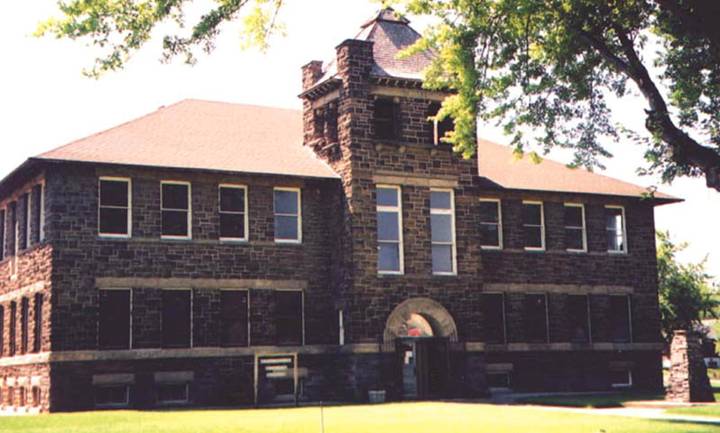 <![endif]>
Stockton Home Burns Down
  William and Nancy Stockton gave the railroad a strip of their preempted land and located Glenns Ferry at its present site just north and west of the original settlement in 1883. Their farmhouse is now owned by Dick and Ann Harder on the corner of Commercial and Garfield Streets. The Harder's bought the house in 1967. They lived in the house for 42 years. Many changes were made during that time. Then on December 18, 2008, their home burned down. Not only did they lose their home, the town of Glenns Ferry lost a piece of its original history. The original house would have been over 125 years old.
<![if !vml]>
<![endif]>
Water System
   Before 1915 the little pioneer town of Glenns Ferry had no water system whatsoever. The water supply came from the Snake River and Canyon Creek. Unfortunately the Snake was roily (lots of sediment) over 6 months out of the year and Canyon Creek only flowed a portion of the time, and the water wasn't very clear either.
   The preferred supply was from the railroad engine tanks from the west containing more choice water. When they would roll into town, the residents would bring water buckets for a supply.
   The next water 'delivery' was hauling barrels from the river. Later on it was brought by the railroad. Albert Stein had a well drilled in 1898 that was run by a windmill and a large tank was installed. It was considered much improved over barrel hauling. It was used until the new water system was built.
   The village council had begun considering a municipal water system in the early part of 1914. In June of the next year actual work started. A site for the well, after several test wells were dug, was at the end of Owyhee Street.
   The well would be 13 feet wide and deep enough to supply sufficient water. The steel tank was placed at the end of Commercial Street. It was 120 feet high and would hold 50,000 gallons of water. The pump had the capacity of 300 gallons per minute. This was enough for all consumer use for the town of Glenns Ferry.
<![if !vml]>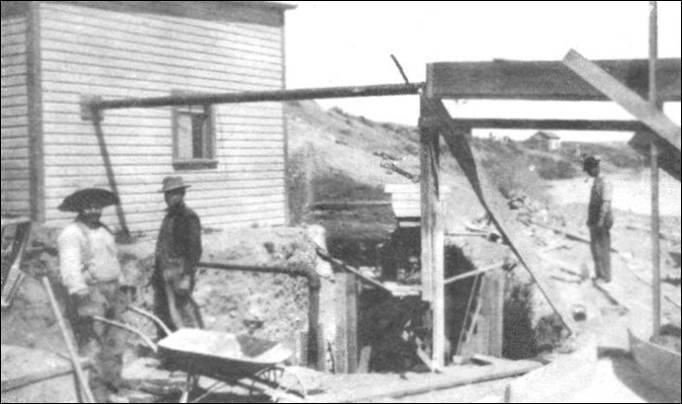 <![endif]>
Ribbon Cutting Ceremony Held For "Glenns Ferry Recreational Trail"
<![if !vml]>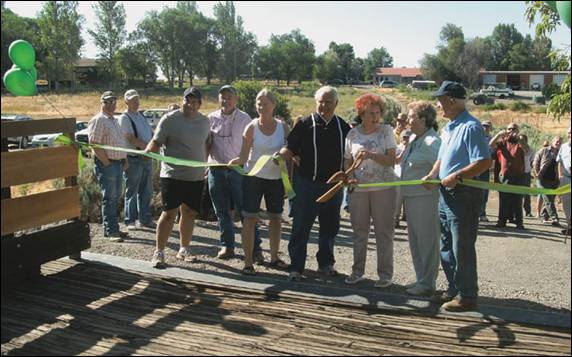 <![endif]>
    Today, August 11th, the big day arrived for the community of Glenns Ferry, Idaho. A ribbon cutting ceremony was held at 10:00 a.m. to officially mark the opening of the Glenns Ferry Recreational Trail.
   After many years of talking and planning, action finally started happening a couple years ago for a recreational trail to link the Three Island State Park to the main center of Glenns Ferry. With a grant of $94,000 from Idaho Parks and Recreation, the project got a start.
   Ralph Jones spearheaded this project, which has now completed its first phase. Someone commented just before the ribbon cutting that it was Ralph's Big Day and Ralph corrected him and said, "No this is the Community's Big Day".
   The opening of this trail comes just in time for this year's Three Island Days Celebration held August 12th – 14th ).
<![if !vml]>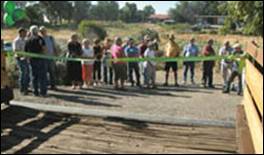 <![endif]><![if !vml]>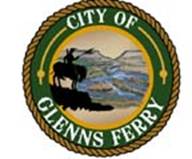 <![endif]><![if !vml]>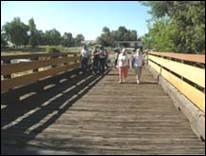 <![endif]>
Become a Facebook Fan of City of Glenns Ferry
<![if !vml]>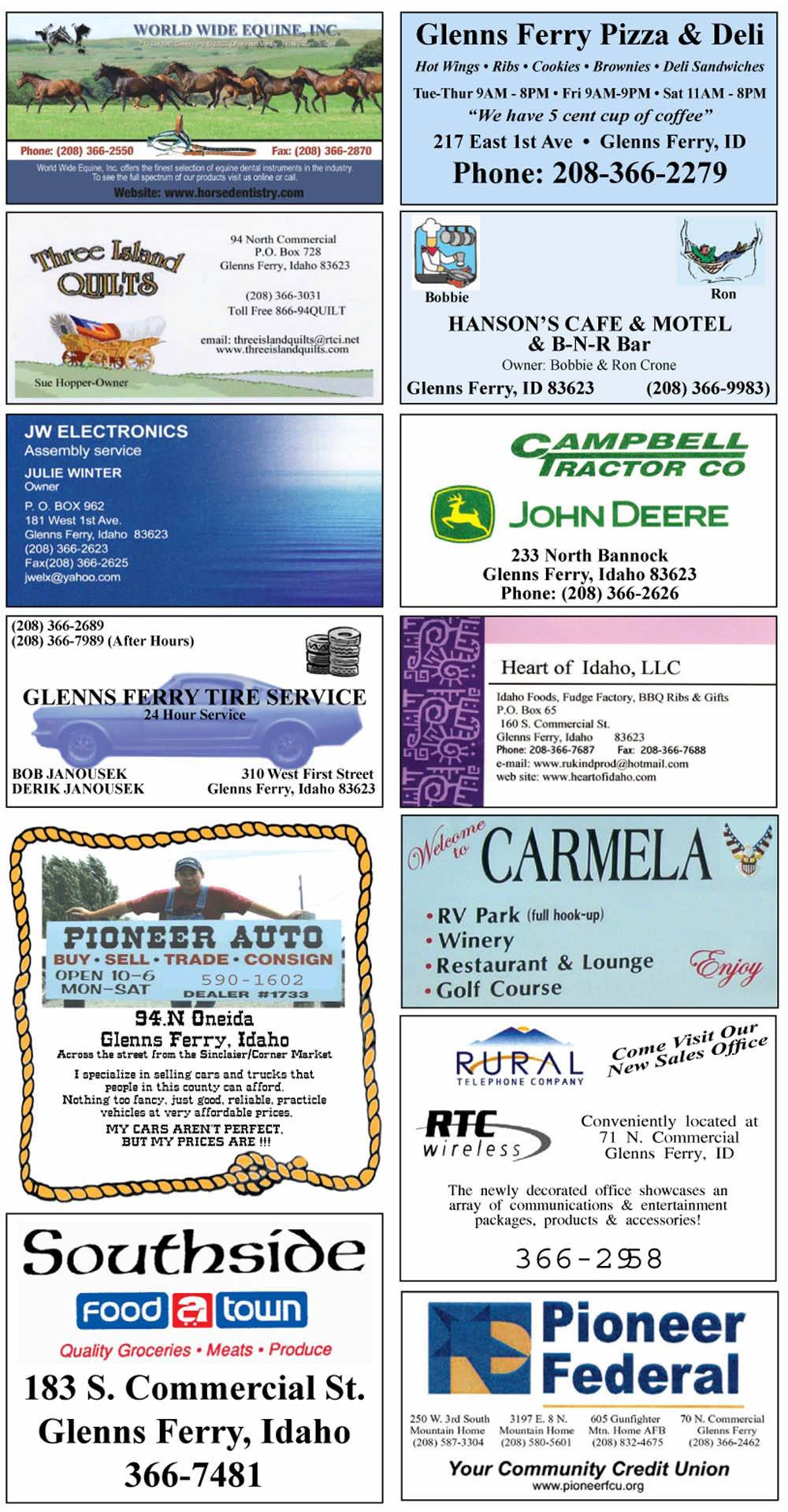 <![endif]>
<![if !vml]>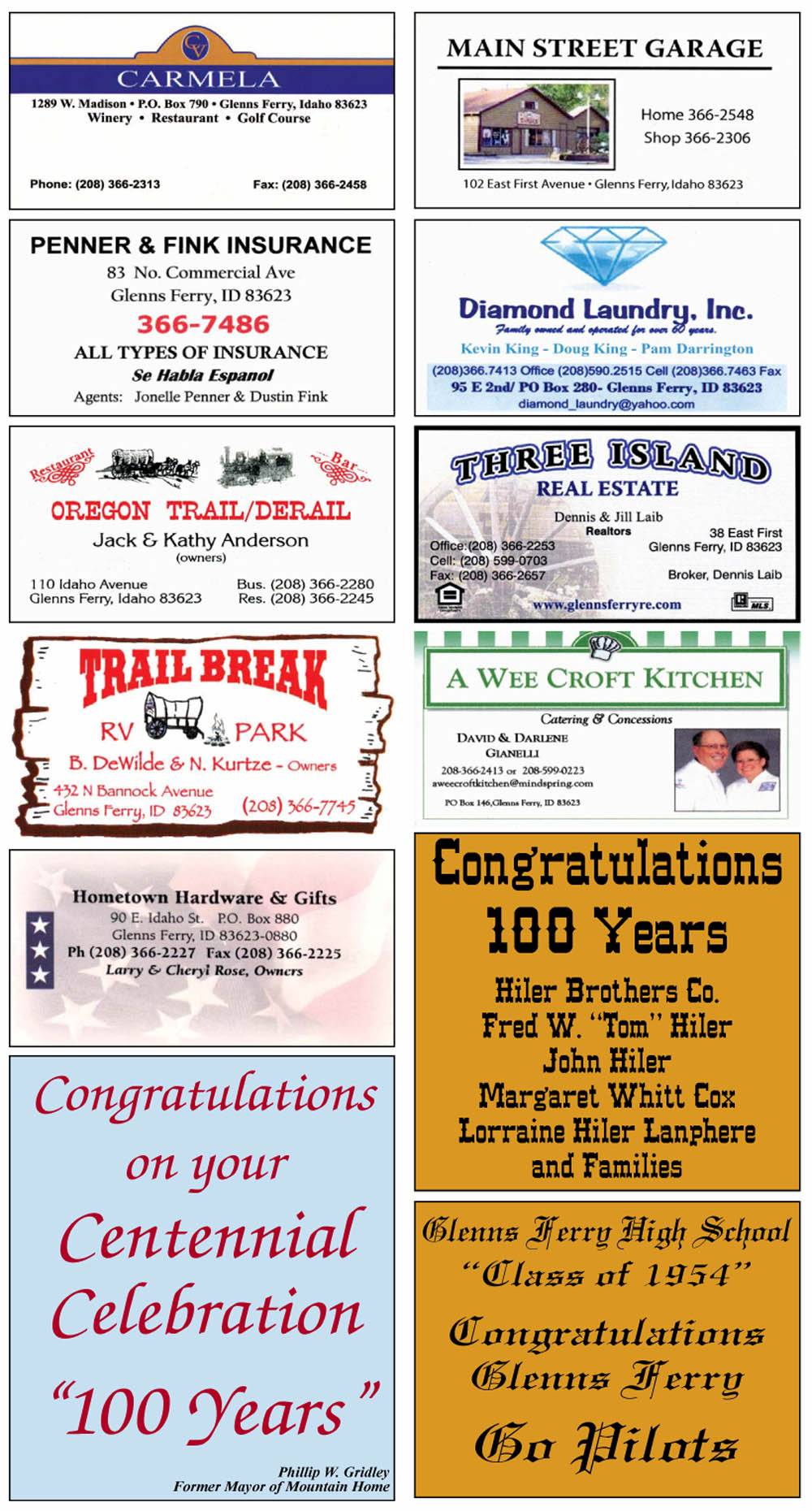 <![endif]>
<![if !vml]>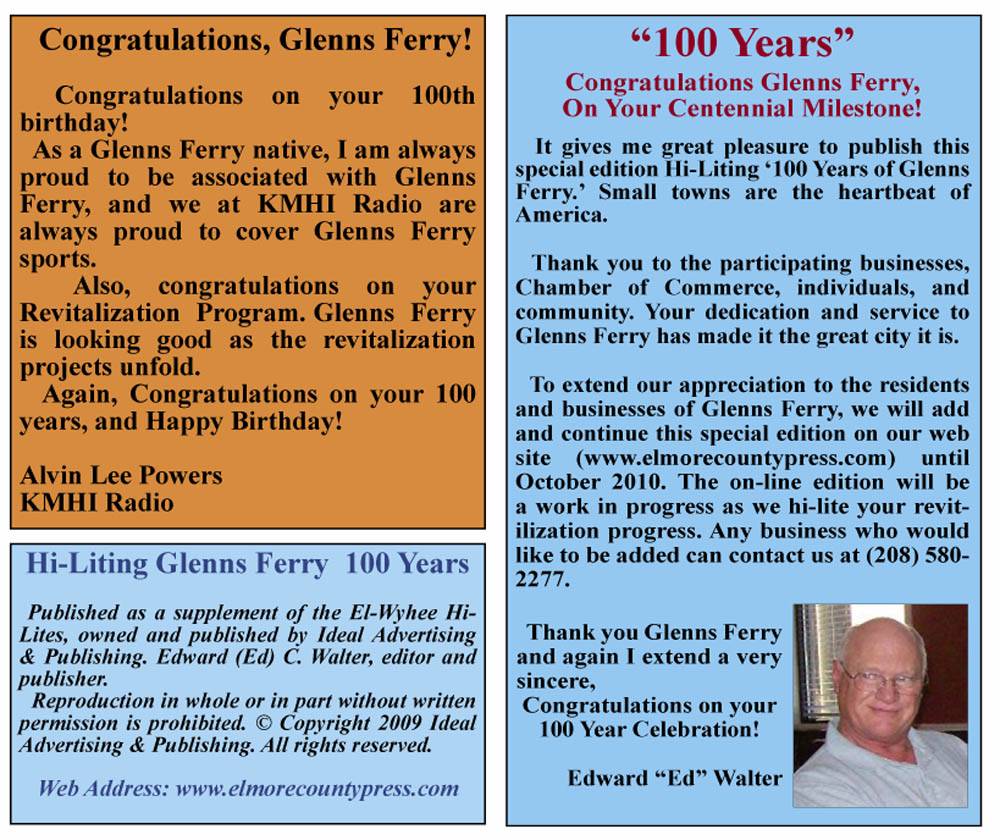 <![endif]>